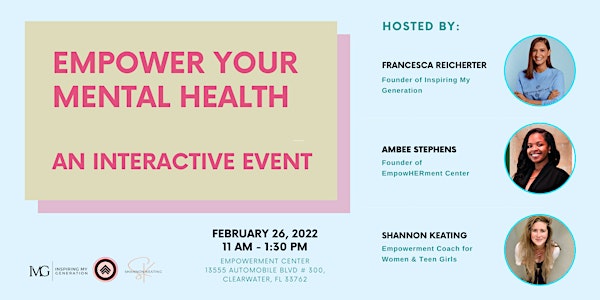 Empower Your Mental Health: An Interactive Event
EmpoweHERment Center & Inspiring My Generation are joining forces to create a life-changing community experience.
When and where
Location
EmpowHERment Community Center 13555 Automobile Boulevard ## 300 Clearwater, FL 33762
About this event
Have you ever felt alone in your mental health challenges?
Are you ready to release the stigma around emotions & mental health?
Do you crave a like-minded, supportive community?
Are you interested in holistic approaches to self-love & self-care?
Join us for an afternoon of conversation, community, & connection!
EmpowHERment Community Center & Inspiring My Generation are joining forces to create a community experience centered around sharing our stories & rising up through mental health challenges.
Included at this event:
Guided Meditation - for all levels of meditation experience!
Speakers - we have 5 speakers - both men & women - who will be opening up the behind-the-scenes of their personal experiences with mental health
Group Discussion - after our speakers, we'll be creating the space for everyone to chat, connect, ask questions, & share from the heart
Encouragement Cards - we'll be creating "Encouragement Cards" for people who are currently at a mental health institute receiving care
Lunch - we will have water, snacks, & a delicious lunch provided by Bolay Kitchen - a health-conscious, fast dining restaurant that recently opened up a location in St Pete!
Silent Auction and Giveaways - you'll have the opportunity to donate to both organizations at this event in exchange for entering into some fun giveaways & auction items!
Together, let's open up our hearts & end the stigma around mental health.
Extra Details:
This event is a free community event with a fundraising element! You'll have the opportunity to learn about EmpowHERment Community Center & Inspiring My Generation and donate to these organizations at the event. There will also be a silent auction infused into our time together where you can win a variety of swag, services, & more in exchange for your donation!
All the donations from this event will be split 50/50 between EmpowHERment Community Center & Inspiring My Generation
Your donations are tax-deductible as qualified charitable contributions, under the Internal Revenue Code Section 501(c)3.
More about the event hosts --
Shannon Keating -- Shannon Keating is a Holistic Life Coach for Women & Teen girls. Shannon is passionate about supporting our younger generation of women in a variety of areas including self love, body image, emotional intelligence, holistic health, mental health, & healthy relationships. Shannon has a history of depression throughout her childhood and adult life, that she's been able to overcome through holistic modalities such as therapy, coaching, nutrition, meditation, plus the support of her family & friends. Shannon is a wealth of knowledge when it comes to self-empowerment & self-love.
Francesca Reicherter -- Francesca Reicherter is the Founder and President of Inspiring My Generation Corporation. Francesca holds a MS in Information Systems and Operations Management from the University of Florida and is a current MA candidate in Psychology at Pepperdine University. She is the author of "You Are Not Alone: The Workbook" and "I Am." As a mental health advocate dedicated to suicide prevention, Francesca is the host of the Normalize The Conversation podcast.
Ambee Stephens -- Ambee Stephens is the Founder and CEO of EmpowHERment, a women's community center committed to helping women rise through support services, support groups, and empowerment workshops. Stephens is passionate about the mission of EmpowHERment, "Wanting to be empowered and around like-minded women is reason enough." Stephens hopes to build a relationship with women that will serve as raw, long-lasting relationships with transparency and resilience at the core. Stephens is currently attending UCF to obtain her Ph.D. in Sociology, with which she hopes to educate women on starting a nonprofit while maintaining work/life balance.
More about our additional speakers --
Dan Olson - Dan Olson is an autoimmune warrior, depression survivor, adversity debunker, former professional water skier, stuntman, soul seeker, traveler, doodle dad, and a live life to the fullest kind of guy! He is truly one of a kind... just ask his doctors :) He helps lead, teach, and inspire others to live to their fullest potential by overcoming adversity in all forms. You can connect with Dan on Instagram: @thedanolson on instagram or at www.thedanolson.com
Herbie Mack - Herbie Mack is the Founder & CEO of Just Believe. He created Just Believe to highlight and remove the stigma surrounding anxiety & depression, particularly among men. Herbie is a multi-time suicide survivor, which led him to become a suicide prevention speaker. Herbie is also a mental health first aider, QPR gateKeeper, and the Just Believe Podcast host. The Just Believe Podcast gives insight into how people overcome their mental health challenges, seek professional help & provide alternative ways to tackle anxiety and depression.
More about the event sponsor --
Bolay Kitchen - Lunch will be provided by Bolay, a fast-dining restaurant, that was founded in Florida & opened up a new location recently in St Pete! This is delicious, fresh, health conscious restaurant. Their values are: community, health, passion, flavor, and service. There will be gluten-free and dairy-free options available. :)
This event is inclusive to all humans.
This event is completely free to sign up for. There is a suggested donation of $10-25 dollars - you can donate and also participate in raffles at the event!
If you have ANY questions about the event or want to speak/share your personal story, please email Fran - francesca@inspiringmygeneration.org or Shannon - hello@shannonkeating.com
We'd absolutely love for you to join us!