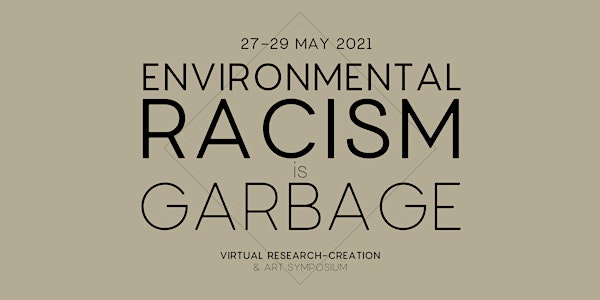 Environmental Racism is Garbage: Research-Creation & Art Symposium
A virtual research-creation and art symposium that bears modest witness to waste as a symptom of environmental racism.
About this event
**Please be sure to sign up for email communication so that you may stay up-to-date with symposium news & announcements.
Thanks very much for registering!
In lieu of a registration fee, please consider making a donation to the RAVEN -- an organization dedicated to providing access to justice for Indigenous Nations.
Link: https://raventrust.com/donate/
Environmental Racism is Garbage seeks knowledge production and acts of resistance at the intersection of art, politics, and the relationship between racialized injustice and ecological crisis. We've invited contributions and collaborations from visual and performance-based artists, curators, theorists and activists, to create submissions that engage with the interconnections between environmental health, socio-economic conditions, racialized discrimination, social justice – with transdisciplinary work driven by creative inquiry and lived experience forefronted.
For more information, check out our website @ environmentalracismisgarbage.art