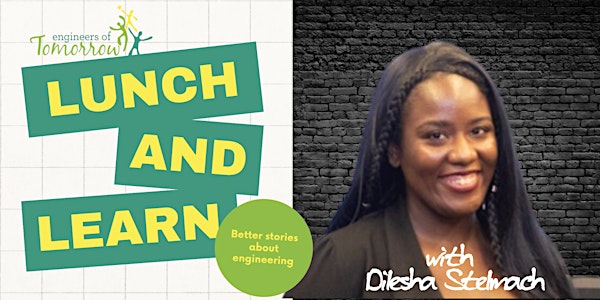 EoT Lunch and Learn
EoT Lunch and Learn - featuring one of our AWESOME community members!
About this event
Each month, we will be featuring one of our awesome community members.
Hear THEIR engineering story.
Connect with OTHER like-minded folks.
Maybe even LEARN something new??
This month we're talking with our friend Dilesha Stelmach!
Dilesh wears many hats! Director | Founder | 2018 UN SDG Award Winner | 2021 UN YSIP Mentor | Howard University Guest Lecturer | Certified Blockchain Professional
Her work with the Oui STEM Academy is helping us work toward more equitable STEM education for students. Oui STEM Academy is the United Nations 2018 SDG Leadership winning small not-for-profit dedicated to offering advocating for equitable science, technology, engineering, & mathematics education.
Join us for this conversation on March 24th to hear more about Dilesha's story.