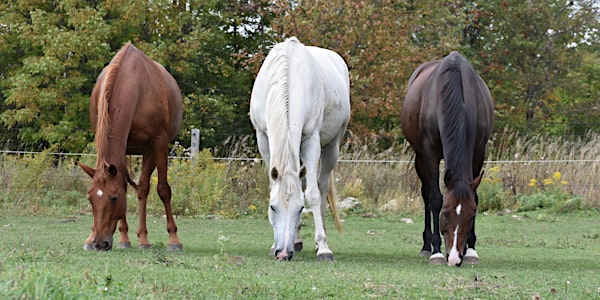 Equine Industry Symposium 2020
The fifth annual Equine Industry Symposium will be hosted by BBRM Event Management students and held virtually this year
About this event
The fifth annual Equine Industry Symposium will be hosted by BBRM Event Management students held virtually from November 16-20, 2020, from 7:00pm to 8:30pm EST each evening.
In the wake of the global pandemic, the focus of this year's Symposium will be 'RESILIENCE: Rethinking, Restructuring, Re-evaluating due to COVID-19'. Join us each evening as we explore the challenges presented by the pandemic and the opportunities to re-evaluate and restructure our equine industry.
Schedule
Monday Nov. 16  Pandemic impacts on equine communities. Join our guest panelists Christine Reupke, Bronwynne Wilton, Danielle Glanc and Jonathan Zammit as we explore the challenges and issues faced in various sectors of the industry.
Tuesday Nov. 17 Restructuring the business for success. Presentations by Melanie Barham, Sean Jones, Catherine Willson and Mike King will centre on successful business plans, financial and legal advice.
Wednesday Nov. 18 Pandemic pressures on welfare. Gayle Ecker, Roly Owers and Bettina Bobsien will discuss minimum standards of care, end of life planning, and how to maintain equine welfare through pandemic restrictions.
Thursday Nov. 19 Traceability and Emergency Preparedness. UK-based Stewart Everett and Nic de Brauwere will present how animal traceability was implemented in the UK, and Kristy House will discuss the importance of traceability in Canada in light of pandemic emergency measures.
Friday Nov. 20 The silver lining. National and provincial perspectives presented by Kristy House and Tracey McCague-McElrea will focus on positive changes and initiatives that have arisen. The Equine Information Source will present positive perspectives from industry professionals, and Akaash Maharaj will conclude with a summary of the five days.
This event is free and open to anyone involved in the equine industry looking to discuss changes in the industry. Advanced registration is required and the virtual zoom link will be emailed to the registrants.
Note: if you are from a country other than Canada or the US please include this information in your registration. Updated zoom security controls require us to select which countries can participate.