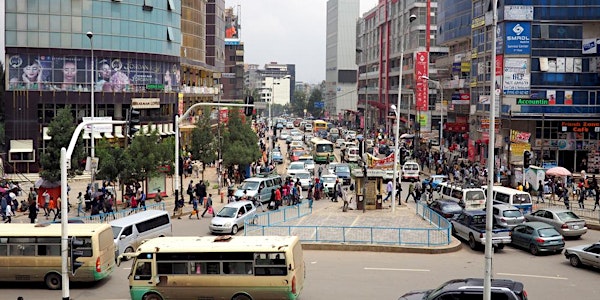 Ethiopian Democracy - A Leap of Faith
Democracy anywhere affects democracy everywhere. Be part of the conversation on the future of democracy in Ethiopia.
About this event
Democracy House Conversations
Presents, Part 1 of a 3 Part Series
In collaboration with
New Perspective - አዲስቅኝት Ethiopia Media Services
Ethiopian Democracy - A Leap of Faith
May 19, 2021 * 7pm – 8:30pm * Zoom
Featuring Guest Speakers:
Jeremy Kinsman, Former Canadian Ambassador,
YOU !
We'll be all ears as Jeremy Kinsman brings over 40 years in the Canadian Foreign Service to bear in providing some background and things to consider in establishing and developing democracy.
Following a short Q&A with Jeremy, it will be your turn to talk.
We'll move into small break-out groups for a respectful dialogue about Democracy in Ethiopia.
In this conversation we will consider the historical challenges of Ethiopia's half a century struggle to become a democracy by examining questions like:
Is democracy a luxury or a necessity for Ethiopia?
What are the main challenges that continue to hinder the transition to democracy in Ethiopia? and,
Is Ethiopia's ethnic federalism even compatible with a genuine democracy?
Our discussions may be guided by Amanda Gorman's words in "The Hill We Climb":
"A nation that isn't broken, but simply unfinished"
"We are striving to forge a union with purpose, to compose a country committed to all cultures, colors, characters and conditions of man."
"We close the divide because we know, to put our future first, we must first put our differences aside."
"But while democracy can be periodically delayed, it can never be permanently defeated."
"So let us leave behind a country better than the one we were left with."
Jeremy Kinsman, born in Montreal, was in the Canadian Foreign Service for 40 years, the last 15 as our Ambassador in Moscow, Rome, London, and Brussels (EU). Before his appointment as Ambassador, he had been Minister at the Canadian Embassy in Washington and at the UN in New York. Since leaving the Public Service in 2006, Jeremy has concurrently been Diplomat in Residence at Princeton University, his alma mater, Regent's Lecturer and Resident International Scholar at the University of California, Berkeley, and Distinguished Visitor at Ryerson University in Toronto. From 2007-2017, he directed an international democracy support program that published "A Diplomat's Handbook for Democracy Development Support." He was also a member of Prime Minister Trudeau's Foreign Affairs Council. Since 2007 he has been an independent Director on the Board of Dundee Precious Metals Corporation. Jeremy is a frequent media contributor and appears regularly on CTV. He is a Distinguished Fellow of the Canadian International Council for which he is currently organizing a year-long consultation between Canadian and German civil society on democracy, inclusive pluralism, human rights defence, and cooperative multilateralism.