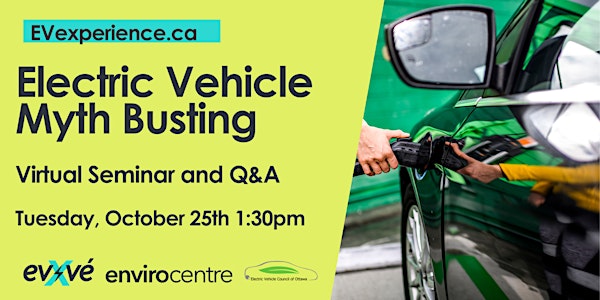 EV Experience: Electric Vehicles Myth Busting Seminar and Q&A
Join EV Experience and KRP Properties as we discuss the many benefits and common myths around driving an electric vehicle in Ottawa.
Date and time
Tue, Oct 25, 2022 10:30 AM - 11:30 AM PDT
About this event
Interested in knowing more about electric vehicles?
Join EV Experience and KRP Properties for a virtual lunch and learn by Raymond Leury, President of the Electric Vehicle Council of Ottawa (EVCO). He will share what it's like to own an electric vehicle and what the benefits are personally and for the environment. He will cover some common myths and the reality of owning a EV in Ottawa.
Come with your questions! We want to spark your knowledge about EVs.
EV Experience is funded by Natural Resources Canada, the Ottawa Climate Action Fund, Ottawa Community Foundation, and EnviroCentre in partnership with the City of Ottawa, Communauto, EVCO and Smart Net Alliance.
About the organizer
EnviroCentre is a local environmental non-profit which brings environmental change to life by offering people, organizations and communities across Ottawa and the province practical solutions to lighten their environmental impact in lasting ways.