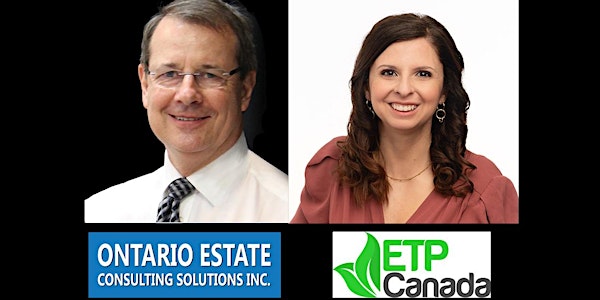 Multiple dates
EXECUTOR 101 TRAINING COURSE - ON ZOOM - offered 3rd Tuesday of each month
This workshop is presented by Jim Kibble of OECSI and Debbie Stanley of ETP Canada (contact information below)
By Jim Kibble, CA,TEP,CEA
Date and time
Tue, Apr 19, 2022 4:00 PM - Tue, Jun 20, 2023 5:30 PM PDT
About this event
THE FIVE QUESTIONS EVERY POTENTIAL EXECUTOR SHOULD ASK THEMSELVES:
What tasks will I need to do if I agree to be the executor for someone?
What risks do I assume if I agree to let my name stand as an executor?
If I agree to act as the executor for family or friends, do I get paid and how much time will the job take?
Am I being naive when someone tells me "I really just have a simple estate"?
Who am I accountable to if I am acting as an executor?
Join us for a free Zoom webinar where we will answer these questions and provide every potential executor with sufficient information to decide if you want to take on the job or not. We also discuss what options exist if you decide you do not want to serve.
You will also be able to receive a detailed template we have created of executor duties and a link to the Zoom video recording of the webinar for future reference - all at no charge.
contact information:
Jim Kibble Ontario Estate Consulting Solutions Inc. 226-600-2984 jim@kibblefamily.com
Debbie Stanley Estate Transition Planners Canada 519-362-1872 dstanley@etpcanada.ca
About the organizer
Ontario Estate Consulting Solutions Inc. is an independent fee for service only estate planning firm with offices in Kitchener, New Hamburg, and Hamilton. We do not sell insurance or investments or do income tax preparation. Instead, we create the blueprint for what an optimal estate plan should look like for you and your family to minimize burden and taxes and to maximize the opportunity for your family to be healthy after you are gone. We work with some of  the best wills and estate lawyers in our areas of practice to paper up the blueprint once it is drafted. Our estate planning process walks you through estate planning education, identification and resolution of issues and the completion of a plan that integrates it all together.