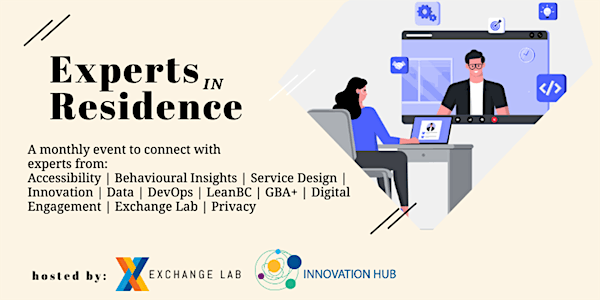 Multiple dates
Experts in Residence
Experts in Residence was created to help BC government employees find the advice they need.
Date and time
Thu, Jul 16, 2020 2:00 PM - Thu, Jul 13, 2023 11:00 AM PDT
About this event
Experts in service design, Lean, behavioural insights, digital literacy, privacy and more will be offering their advice at Experts in Residence – a virtual gathering of smart cookies from across the BC Public Service hosted by the Exchange Lab and Innovation Hub.
How to show up
Bring your challenges and questions
Turn on your camera
Ask questions verbally or in the chat
Try out new channels
Do you have questions about how to apply new, innovative approaches to your work? Are you curious about how to nudge people to shift their behaviours or Lean a traditionally clunky process?
At Experts in Residence, you'll have a chance to chat with experts from:
Accessibility – working to make accessibility part of the DNA of the public – both in the digital and physical environments.
BC Behavioural Insights Group – applying behavioural science to behaviour-based policy problems by making small tweaks or "nudges" to a program or service.
Exchange Lab– supporting the open collaboration, engagement and enablement of teams committed to creating public value through digital service delivery.
Corporate Privacy – supporting employees in balancing their need to collect and share personal information while meeting their privacy obligations.
Data – supporting employees to develop their ability to collect, manage, share, analyse, interpret and present data.
DataBC - increasing access to secure data and tools to empower data-driven decisions.
DevOps – enabling BC Public Service digital delivery teams to fully control the deployment of their applications.
Digital Engagement - establishing and building public trust as a proactive/reactive digital customer service presence through social and content creation.
Health and Safety - The BC Public Service is committed to a culture that supports employee health and safety and provides a wide range of health, safety, and well-being supports for our employees designed to prevent or reduce the impact of illness or injury.
Innovation Hub – supporting a more innovative workplace culture by inspiring and empowering employees to reimagine their work now and into the future.
LeanBC – improving business processes, from the simple to the complex, and reducing red tape for citizens and businesses across British Columbia.
Service & Content Design – improving how citizens find, access and use government services by performing human-centred design research with citizens and stakeholders in B.C.
What to expect:
Following a quick welcome and lightning talk, you will be invited to join a breakout room of your choice, each hosted by an expert(s) representing the areas listed above. You will have chance to chat directly with experts and ask questions. Video is encouraged.
Thanks for joining us! We look forward to seeing you at Experts in Residence.
Join us online monthly.
Learn more about the Exchange Lab and the Innovation Hub:
*An Outlook calendar invite will be sent within a few days of you signing up on Eventbrite to attend with an MS Teams link to the event.
Questions? Contact us at ExchangeLab@gov.bc.ca
About the organizer
The BCDevExchange exists at the leading edge of delivery-driven government in British Columbia. We partner across and beyond government to support the open collaboration, engagement and enablement of teams committed to creating public value through digital service delivery.