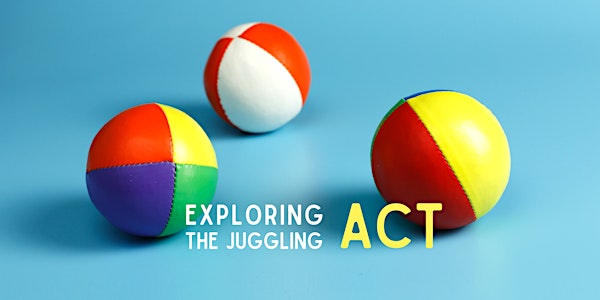 Multiple dates
Exploring the Juggling Act
The AFC's new peer group where you can cut through the noise of external pressure and find clarity about your unique career path.
Date and time
Thu, Nov 11, 2021 10:00 AM - Tue, Apr 25, 2023 11:00 AM PST
About this event
Work and life can truly feel like a juggling act in the entertainment industry. Many people experience uncertainty about career transitions, insecurities about doing non-industry work (even if it is fulfilling), feelings of guilt or grief after shifting away from the industry, and more. So let's talk about it! Exploring the Juggling Act is a peer group where people can freely explore and evaluate their relationship with their industry.
We want to help industry workers maintain a passion for their craft while meeting personal goals in financial security, concurrent careers, family life and other areas. With so much external pressure and expectations, this process can be hard to go through alone or without perceived judgement.
Industry peers will facilitate the group discussions to help participants support each other to find healing, growth, and confidence in their individual juggling acts. The sessions will also include a social worker to offer mental wellness support and create a safer space for an open dialogue.
At the Exploring the Juggling Act group, you can:
Meet new people who are also navigating their careers in the entertainment industry;
Explore what you are feeling in a non-judgmental, welcoming environment;
Share ideas and experiences about how you or other people can cut through the noise and find clarity about your unique path.
Exploring the Juggling Act group is not:
One-on-one counselling or therapy;
A crisis support group (if you are in crisis and need help right away, please call 911 or go to your local hospital).
Participants are not obligated to join every session.
Confidentiality Statement:
Group members will be expected to uphold one another's confidentiality. All information disclosed within the group is confidential and may not be revealed to anyone outside of the group, unless the facilitator is required or allowed by law to do so or when participants have consented to the disclosure.
About the organizer
The AFC is a national charity with a mission to help Canada's entertainment professionals maintain their health, dignity, and ability to work.
Our work is focused on supporting the health and well-being of arts and entertainment professionals working in all aspects of film & TV, music, theatre and dance. Current services and programs are offered in the areas of emergency financial aid, financial wellness, mental health and wellness, professional development and career sustainability. Learn more at AFChelps.ca.