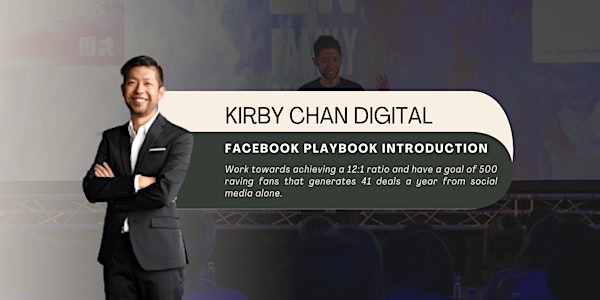 Multiple dates
Facebook Playbook Introduction
In this course, you will learn how to use Facebook Playbook System as a complete lead generation and database referral system.
Date and time
Thu, Dec 1, 2022 10:00 AM - Thu, Nov 2, 2023 11:00 AM PST
About this event
[Free Training]
Join Kirby Chan for A Facebook Playbook Introduction. Build a database of Ravings Fans and learn to cause repeat and referral business.
The outcomes of the Facebook Playbook.
1. Attracting more friends and converting them to Raving Fans.
2. Hacking the FB Algorithm so Raving Fans will see your content.
3. Running a high-touch program to your Raving Fans on Facebook.
4. Extending your reach by collaborating with your Raving Fans.
5. Deleting friends that do nothing and waste your impressions.
6. Achieving a ratio of 12:1 for your raving fans. If you have 500 friends on the list, that's 41 deals a year!
Are you getting that return on Facebook right now?
Attend our free session and at the end, you can register for our Facebook Playbook Bootcamp.
Learn how you can implement the proven Facebook Playbook System to generate loyal, repeat, and referral business.
About the organizer
Kirby Chan loves Real Estate, Social Media and Marketing.