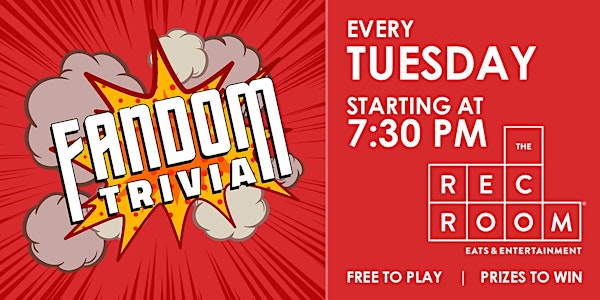 Fandom Trivia at The Rec Room Brentwood - Free Quiz Nights & Prizes to Wiin
Assemble your team for Fandom Trivia at The Rec Room with Daniel and Jeff! Free pub quiz every Tuesday at 7:30 pm!
When and where
Location
The Rec Room at Brentwood 1920 Willingdon Avenue #Unit 2106 Burnaby, BC V5C 0K6 Canada
About this event
What are you geeky about? Show off what you know with Fandom Trivia!
Join hosts Jeff Porter (Fear of Science Podcast) and Daniel Chai (The Fictionals Comedy Co.) at The Rec Room Burnaby for epic quizzes, themed rounds, prizes and more!
TRIVIA LEAGUE returns starting Tuesday, September 20 and runs weekly throughout the fall! Jump in and play during any week!
Seating starts at 7 pm, Trivia starts at 7:30 pm and runs to around 9 pm
- No entry fee or pre-registration needed. Tables are first-come, first-served starting at 7 pm!
- Show off your IQ with a variety of nerdy and geeky topics, ranging from Film and Television, Video Games to Foodie Facts, Science and History, and more! There's questions for everyone!
- Themed Music Rounds to prove you are the Human Shazam!
- Max 6 people per team!
- Plus delicious food and drinks from The Rec Room to enjoy!
Prize Sponsors include:
- The Rec Room Brentwood
- Vancouver Mysteries
- Gamedeals Video Games
- Big Pete's Comics and Collectibles
- Forbidden Vancouver
- Rain City Games
- Turquoise Goat Board Game Cafe
- 8th Dimension Comics
Follow us on Social Media for bonus content!
Facebook
https://www.facebook.com/fandomtriviayvr
https://www.facebook.com/TheRecRoomBurnaby/
Twitter
https://twitter.com/fandomtriviayvr
https://twitter.com/TheRecRoomCa
Instagram
https://www.instagram.com/fandomtriviayvr/
https://www.instagram.com/therecroomca/