About this Event
Feelin' the Joy this Christmas with IDEA at the Grindstone Theatre and Bistro.
Enjoy festive foods, drinks and a show followed by an exclusive tour of the Grindstone Theatre.
Background:
The Grindstone Theatre is Edmonton's first comedy theatre and opened up just last year! Byron Martin started the Grindstone in 2011, a non-profit theatre company that was performing out of the Varscona Hotel. Unfortunately, the group was left venue-less and no place to perform while Varscona was undergoing renovations.
With no place to go, Byron decided to open up his own (and the first) 75-seat Comedy Club Theatre in Edmonton!
Join us and let's get joy-ful at Edmonton's first Comedy Club Theatre!
What:
Holiday party at Grindstone Theatre and Bistro with Food, Drinks, Live Comedy Show and Exclusive Tour.
When:
Thursday, December 12th 2019
Doors Open at 5pm
Exclusive Tour at 5:30pm
Comedy Show starts at 7pm
Drinking & Mingling at 8pm
Where:
The Grindstone Comedy Theatre & Bistro
1009 81 Ave NW
Edmonton, AB T6E 1W7
Tickets:
Members:
$30.00 (Includes Entry , Food & Beverage, and Show)
$20.00 (Tour Only, Show not Included)
Non-Members:
$40.00 (Includes Entry , Food & Beverage, and Show)
$30.00 (Tour Only, Show not Included)
See you there!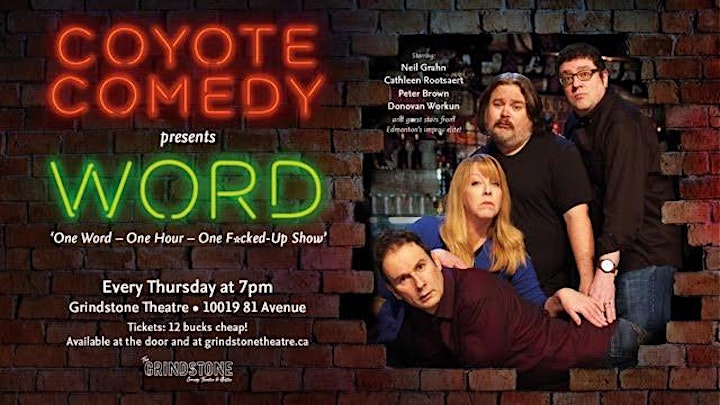 ABOUT THE SHOW:
Coyote Comedy is a 50 minute long form improv show that has lots of short little scenes throughout it. We get a suggestion (or two) from the audience and then we cut loose. There are three funny performers who will get themselves into all sorts of trouble and then do their best to extricate themselves from the situational hells they have created. It's loose, it's free form, and it's probably going to be out of control for good stretches every episode.

Interested in becoming an IDEA Member?
IDEA's purpose is to drive change toward people-centered communities.
We are a non-profit organization made up of passionate Edmontonians working together.
Questions?
Contact Executive Director Mariah Samji at info@infilledmonton.com
Want to learn more about the Grindstone Theatre? Click Here