Location
Delta Toronto Hotel
75 Lower Simcoe St
Toronto, ON M5J 3A6
Canada
Refund policy
Contact the organizer to request a refund.
Eventbrite's fee is nonrefundable.
FIL-TORONTO Summit will be a collaborative three-day event hosted by the Filecoin community in Canada. Everyone is invited!
About this event
You may find the most updated event information at www.fil-toronto.com
⭐️Join the summit/hackathon discord server to discuss ideas and meet new people - https://discord.gg/mBAQHhsFdF
There will be various sessions including meetups, workshops, keynotes, a hackathon, cocktail, and more throughout the summit. It's the perfect opportunity to connect with a growing and vibrant community of web3 enthusiasts, build projects that can grow into the next big start-up, acquire new skills and win attractive prizes to accelerate your professional and personal growth, and access a broad range of follow-on opportunities (grants, accelerators, seed funding & more).
🔍What to Expect at FIL Toronto Summit
First-class minds sharing from across the web3 ecosystem
In-depth expert-led workshops
Side events and meetups
Hackathon with $50,000 prizes
🎓Industry leading minds
The summit is aimed at bringing together 100+ Web 3 users, educating and inspiring the next generation of Web3 builders. We will empower developers and entrepreneurs to solve significant problems, ship innovative applications and shape a more decentralized, robust, and secure web.
A sample list of speakers below
Juan Benet, Founder & CEO, Protocol Labs
Corinne Bernett, PM Estuary, Protocol Labs
David Aronchick, Protocol Labs
Ed Strong, Director, Web 3.0 Storage, Seagate
Charles Cao, founder, FilSwan
David Ansermino, VP Engineering, ChainSafe
Lee Raj, Project Manager, Forest, ChainSafe
Elizabeth Binks, Engineering Lead, ChainSafe
Ryan Baumann​
Boris Mann​, Co-Founder, Fission
Gary, FBG Capital
Marc Johnson, Filecoin Green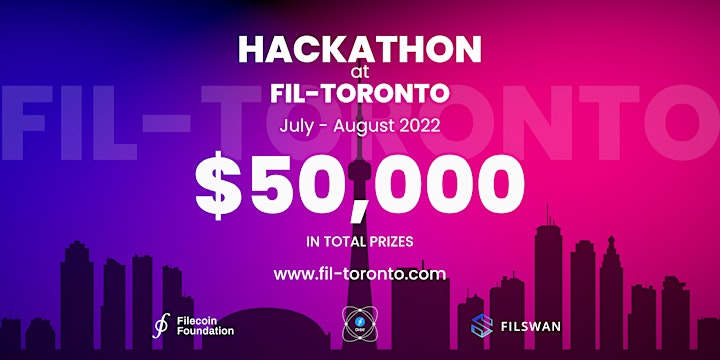 💰$50,000 for Hackathon Prizes - July 4th to Aug 6th, 2022
Please consult www.fil-toronto.com for the most updated information. Join the summit/hackathon discord server to discuss hack ideas and meet new people https://discord.gg/mBAQHhsFdF
A hackathon will also be held in conjunction with the summit and will continue to August 6th, 2022 to give everyone ample time to research and design for the hackathon. Final submissions can be done on dorahacks following this link https://dorahacks.io/zh/hackathon/27/detail
If you wish to participate in the hackathon please register for a separate hackathon ticket with your email address, more details about the hackathon will be sent out via email.
The FIL Toronto Hackathon will award USD 50,000 to top team projects.
Netdisk - Best use of IPFS/Filecoin for file storage - $10,000
Multi-Chain Storage with Filecoin Network - $10,000
Decentralized Identifier (DID) - $2,500
Computing Over Data - $10,000
Filecoin - Gaming, Metaverse - $10,000
DAOs & NFTs - $5,000
Forest Bounty - $500
Community Choice - $2,500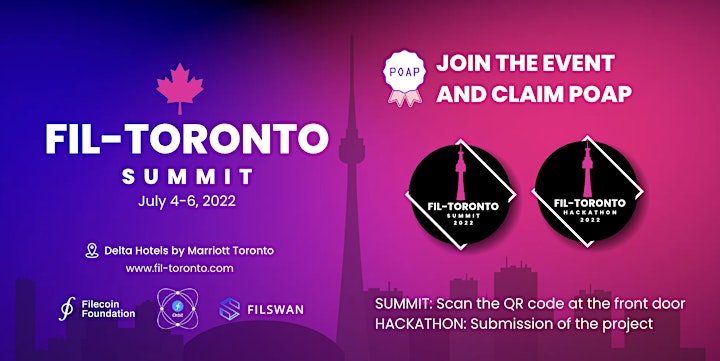 `Receive free POAP NFTs and many free swags and gifts
Come join us in real person between July 4th - July 6th to receive a unique POAP NFS for free. There are also tons of swags available from our partners such as Seagate, Filecoin Foundation, Protocol Labs, ChainSafe and more