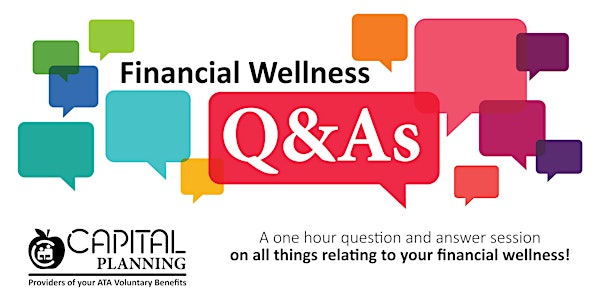 Financial Wellness Q&A session
Join us for a lively question & answer hour on all things relating to financial wellness!
Date and time
Thu, Mar 16, 2023 2:45 PM - 3:45 PM PDT
About this event
Come get your money questions answered!
Short on time? Want to cut straight to the chase? Looking for answers?
From the people who brought you the ATA Financial Wellness sessions, it's Financial Wellness Q&As! A full session dedicated purely to your financial questions.
Should I get RRSPs or TFSAs? How does the Home Buyer's Plan work? RESP government grants, how do those work?
Led by Rick Harcourt, PFA is the Professional Financial Advisor ™ who manages the ATA Voluntary Benefit Program for Capital Planning. He's the featured speaker at ATA Financial Wellness sessions and Pre-Retirement workshops across Alberta.
This session will run for about 1 hour, but we will stick around and answer all the questions.
You are encouraged to send your questions ahead of time, type your questions into the chat box right in the zoom call or even unmute and ask your question during the session!