Finding A Way Forward: The Changing Ways Canadians Get Their News
Description
CJF J-Talk
Journalism matters.
#CJFjtalk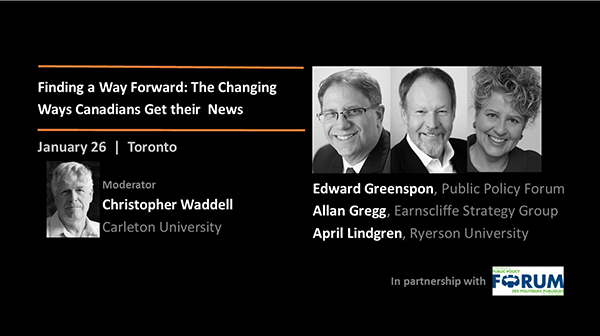 Follow the livestream, J-Source liveblog, and you can follow #CJFjtalk on Twitter. A video and podcast will be available after the event.
How are Canadians getting their news, and whom do they trust to provide it? How do perceptions differ between social media and mainstream news organizations? Does the government have a role in aiding struggling news outlets? The Canadian Journalism Foundation (CJF), in partnership with the Public Policy Forum (PPF), explores Canadians' attitudes towards the media in a public opinion poll, conducted by Earnscliffe Strategy Group for PPF's study on THE SHATTERED MIRROR: News, Democracy, Policy and Trust.

To explore what the results mean for the future of news in Canada, Christopher Waddell, associate professor at the School of Journalism and Communication at Carleton University and a member of the CJF Board, will be in conversation with Edward Greenspon, president and CEO of the Public Policy Forum; Allan Gregg, principal with Earnscliffe Strategy Group; and April Lindgren, associate professor at Ryerson University School of Journalism and principal investigator for the Local News Research Project.
Audience members will have the opportunity to participate in this town hall format.
Registration 5:30pm | Discussion 6:00pm | Reception 7:30pm
TMX Broadcast Centre, The Exchange Tower, 130 King St. West, Toronto



ABOUT THE SPEAKERS
EDWARD GREENSPON is President & CEO of the Public Policy Forum. Greenspon has worked at the intersection of journalism, business and public policy for more than 30 years. He comes to the Forum from one of the world's largest news organizations, where he led global coverage of energy and the environment, and oversaw major journalistic undertakings. He joined Bloomberg in 2014 as Editor-at-Large for Canada and has worked for Torstar Corp., publisher of the Toronto Star, as Vice President of Strategic Investments. At the Globe and Mail, Greenspon was a business reporter and editor, Ottawa bureau chief, European correspondent, founding editor of globeandmail.com and Editor-in-Chief. He is the author of Double Vision: The Inside Story of the Liberals in Power, which won the 1996 Douglas Purvis Award for best public policy book, and of Searching for Certainty: Inside the New Canadian Mindset. In 2002, he won the Hyman Soloman Award for Excellence in Public Policy Journalism. In 2010, he chaired a 13-person panel for the Canadian International Council that produced a bold international policy strategy called Open Canada: A Global Positioning Strategy for a Networked Age. Ed has a combined honours degree in journalism and political science from Carleton University and was a Commonwealth Scholar at the London School of Economics, earning a master's degree in politics and government. @egreenspon
ALLAN GREGG is Principal, Ontario for Earnscliffe Strategy Group. Gregg is among Canada's most recognized and respected researchers, strategists and social commentators. He has played a central role in dozens of campaigns over the last thirty years. He founded Decima Research in 1979, co-founded the Strategic Counsel in 1995 and was the Chair of Harris-Decima from 2007 to 2014. A founding shareholder of Canada's children's network, YTV, he also served as chair of Toronto Film Festival and the Walrus Foundation. Allan sits on General Motors of Canada's Advisory Board and is a past director of the Public Policy Forum, the Art Gallery of Ontario and The Writers Trust. From 1993 to 2013 he hosted the TVO talk show Allan Gregg in Conversation with…, and for over a decade was a regular participant on CBC's "At Issue" panel. Allan is a recipient of the Public Affairs Association Award of Distinction. In October 2012, he was inducted into the Canadian Marketing Hall of Legends and the same year, he was named as Adjunct Professor to Carleton University's Schools of Public Administration and Political Management. @allangregg
APRIL LINDGREN is an associate professor at the Ryerson University School of Journalism, is the principal investigator for the Local News Research Project (www.localnewsresearchproject.ca). Before joining Ryerson's School of Journalism faculty in 2007, Lindgren worked for more than 20 years as a political reporter and editorial writer for the Ottawa Citizen and the CanWest/PostMedia chain of newspapers. In 2011, Lindgren became the academic director of the Ryerson Journalism Research Centre. She has a bachelor of journalism degree from Carleton University and a diplôme in international relations from the Graduate School of International Studies in Geneva, Switzerland. In 2005-2006 she was the St. Clair Balfour journalism fellow at the University of Toronto's Massey College, where her studies focused on urban issues. Her current research focuses on local news ecosystems and issues related to local news poverty. @aprilatryerson


ABOUT THE MODERATOR

CHRISTOPHER WADDELL is an associate professor at the School of Journalism and Communication at Carleton University in Ottawa and also holds the school's Carty Chair in Business and Financial Journalism. From 2006 to 2014 he was associate director and then director of the School. He joined Carleton in July 2001 after 10 years at CBC Television News as senior program producer for The National and from 1993 to 2001 Parliamentary Bureau Chief in Ottawa. From 1995 to 2001 he was also Executive Producer, News Specials. Between 1984-91 he was a reporter in the Globe and Mail's Report on Business, economics reporter in Ottawa, Ottawa bureau chief and then associate editor and national editor of the paper He has won two National Newspaper Awards for business reporting and programs he supervised at CBC Television won six Gemini awards for television excellence. He has been a member of the board of directors of the Canadian Journalism Foundation since 2011 and currently chairs its research and awards committees. With David Taras of Mount Royal University in Calgary he is the editor of and a contributor to How Canadians Communicate IV: Media and Politics, published in 2012 by Athabaska University Press, and How Canadians Communicate V: Sports, published in 2015. @cwaddell27


RESEARCH CONDUCTED BY



IN-KIND SUPPORTERS