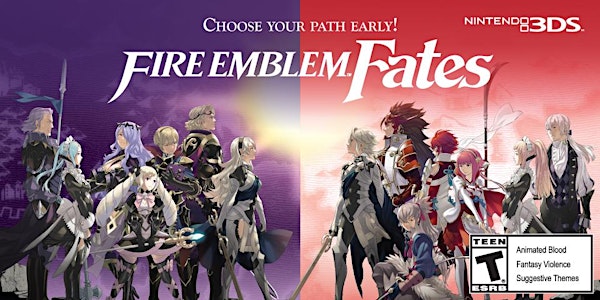 Fire Emblem Fates: Pre-Launch Event
Date and time
Fri, Feb 12, 2016 5:00 PM - 9:00 PM EST
Location
Snell Hall 65 Church St. Toronto, Ontario M5C 2E9 Canada
Description
Be the first to choose your path!
Nintendo of Canada is hosting an Pre-Launch Event for Fire Emblem™ Fates: Birthright and Fire Emblem™ Fates: Conquest. Both titles will be launching for the Nintendo 3DS™ family of systems on February 19th and we are inviting you to choose your path and play these games early. Bring your Nintendo 3DS system to take advantage of Street Pass™ opportunities in Mii Plaza™! There will also be exclusive Fire Emblem Fates T-shirts* given to the first 100 people to choose each path, don't miss out!
Fire Emblem Fates is the second Fire Emblem title for the Nintendo 3DS (precedes Fire Emblem Awakening – launched Feb 4th, 2013). In Fire Emblem Fates, you are the main character that will need to make important decisions. Will you fight for your birth family (Fire Emblem Fates: Birthright) or will you fight for the family that raised you (Fire Emblem Fates: Conquest)? An army of knights, mages, archers and more are at your command in the most tactical battles in series history. Each unit and weapon has strengths and weaknesses you must consider for every foe you face. These decisions are yours to make and will impact how your adventure unfolds.
Space is limited - please RSVP.
Don't forget to bring your Nintendo 3DS system!
Event is restricted to ages 13+.
Food and beverages are not permitted at this event.
*Limit one T-shirt per person, while quantities last.