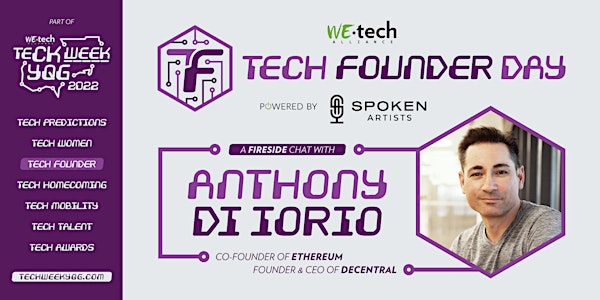 Fireside Chat with Anthony Di Iorio
Learn from the Co-Founder of Ethereum about perfect formula for founders and entrepreneurs!
About this event
Overview: From cryptocurrency, blockchain, finance and business, this wide-ranging conversation will cover Anthony's career as an entrepreneur, venture capitalist, community organizer and thought leader, as well as his insights on the "Perfect Formula" for entrepreneurs and leaders looking to grow.
Who should attend: Entrepreneurs, Founders, Venture Capitalists, Tech Community Members
Event Hashtag: #TeCKWeekYQG #TeCKFounders
Event Partners: WEtech Alliance & Spoken Artists
Anthony Di Iorio
Co-founder of Ethereum & Founder and CEO of Decentral
@diiorioanthony
About Anthony Di lorio
Over the course of three decades, Anthony Di Iorio has launched numerous companies and invested tens of millions of dollars in technology companies primarily in the blockchain sector.
In late 2013 Anthony funded & co-founded Ethereum, the decentralized smart contract platform that has a $400 billion market cap. Currently, he is the founder and CEO of Decentral Inc., a Toronto-based innovation hub & software development company focused on decentralized technologies. Decentral is the maker of Jaxx Liberty, A digital asset platform that has empowered millions of users with the tools they need to control their digital lives.
Well-versed in cryptocurrency, blockchain, finance and business, he has advised a number of companies, and as the inaugural Chief Digital Officer for the TMX Group, the parent company of The Toronto Stock Exchange, he explored ways to make exchanges operate faster and cheaper through blockchain technology.
Anthony has shared his visionary insight with hundreds of thousands of people around the world. Since 2012, he has given numerous lectures, speeches, keynote addresses and interviews, and even hosted over 100 technology events. He was a lecturer at the University of Nicosia's Master's program in Digital Currencies and an Adjunct Professor at the University of Toronto Faculty of Law teaching "Cryptocurrencies, Crypto Ventures and the Future of the Exchange."
In the past few years, Anthony further distinguished himself as the winner of the EY Emerging Entrepreneur Of The Year Award, as a winner of the FinTech Leader of the Year Award, and made Toronto Life's list of the 50 Most Influential people
About Spoken Artists
Spoken Artists is the brainchild of Petar Josic. He's represented some of the world's most acclaimed leaders in business, media, sports, music, and culture, having booked over 5,000 speaking engagements. His unique competitive advantage comes from having spent a decade in the speaking event industry. The expertise he has in this field means Spoken Artists has the necessary grounding to make your experience productive and stress-free. He can also tailor the perfect speaker to your needs, working to a brief to find someone from his diverse stable of personalities that are suited to you.
There's a certain magic when you simply listen to an interesting person talk, and Spoken Artists want to make that a reality for our clients.
Petar's incredible keynote speakers push boundaries and never compromise. They can unite a room in shared fascination over their chosen topic, from politics and art to science and a life lived on the edge.
​Spoken Artists offer excellent communication, attention to detail, and unparalleled service to the event planners we work with and are a seamless link to the speakers we represent. Put simply, Spoken Artists are an old head on young shoulders. We fuse the vast knowledge Petar has acquired from years of experience with the energy and enthusiasm of a new company.