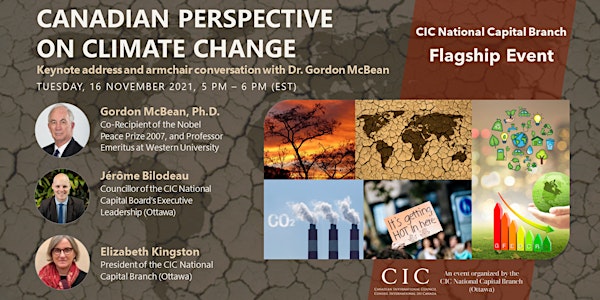 FLAGSHIP EVENT | CANADIAN PERSPECTIVE ON CLIMATE CHANGE, KEYNOTE SPEAKER
Canadian Perspective on Climate Change | A keynote address and armchair conversation with Nobel Prize Laureate Dr. Gordon McBean
About this event
The CIC National Capital Branch cordially invites you to its upcoming Flagship Event,
CANADIAN PERSPECTIVE ON CLIMATE CHANGE
A keynote address and armchair conversation with Nobel Prize Laureate Dr. Gordon McBean
Tuesday, 16 November 2021, 5 pm to 6 pm (Eastern Standard Time). Virtual online event (more event details here)
Join the Canadian International Council (CIC) National Capital Branch, on Tuesday 16 November 2021, from 5 pm to 6 pm (EST), for a keynote address followed by an armchair conversation with Professor Gordon McBean, Ph.D., a distinguished scientist, co-recipient of the 2007 Nobel Peace Prize, a member of the Order of Canada, and an extraordinary educator. Elizabeth Kingston, President of CIC National Capital Branch will deliver the opening and closing remarks. Jérôme Bilodeau, CIC National Capital Branch Board member will moderate this online discussion.
A very recent Intergovernmental Panel on Climate Change (IPCC) report states that "human activity is changing the climate in unprecedented and sometimes irreversible ways". The United Nations Secretary General called the report "code red for humanity." The IPCC report warns of increasingly extreme heatwaves, droughts and flooding, and a key temperature limit being broken in just over a decade. A very recent study published in September 2021 by the University College London, in the United Kingdom, has estimated that the economic cost of climate change could be six times higher than previously thought. There is need for strong actions to reduce emissions and the rate of warming. There is also strong need for actions to reduce the vulnerability of our communities—by building climate resilient communities and reducing the impacts of the warming climate. The issues of emissions reduction and reducing vulnerability need to be coordinated. This presentation will present the new scientific findings and then discuss the climate change impacts and avenues for action.
After your registration, you will receive an email confirming your Webinar access link.
KEYNOTE SPEAKER

Professor Emeritus since 2015, Gordon McBean, Ph.D., is in the Department of Geography and Environment at Western University, and with the Institute for Catastrophic Loss Reduction. He was lead author for the recent Knowledge Synthesis Report, Building Climate Resilient Communities (2021). He came to Western in 2000, having previously been the Assistant Deputy Minister at Environment Canada, responsible for weather, climate and air quality sciences and services, including advising Ministers for Kyoto Protocol and related issues, and earlier a University of British Columbia Professor and Environment Canada scientist. He was chair of the Science Committees of the World Climate Research Programme (1988-94) and the Integrated Research on Disaster Risk (2008-11) and Co-Chair of the Future Earth Governing Council (2016-18). He was President of the International Council for Science (2014-18; President-elect, 2011-14). He helped establish the United Nation's Intergovernmental Panel on Climate Change (IPCC) and was a lead author for several IPCC reports.
Professor McBean is a member of the Orders of Canada and Ontario, and a Fellow at the Royal Society of Canada, International Union of Geodesy and Geophysics, and others. Co-Recipient of the 2007 Nobel Peace Prize, for his contributions to the IPCC. Most recently, he was awarded the 2017 International Meteorological Organization Prize.
WELCOME REMARKS

Prior to her position as the President of the CIC National Capital Branch, Elizabeth had a career of 35 years with the Parliament of Canada as a Procedural Clerk and is now retired. She has held numerous positions including Clerk of the Standing Committees on Finance, Public Accounts, Aboriginal Affairs, Industry as well as the Special Joint Committee on the Meech Lake Accord. She has also served as Executive Secretary to the Canada–United States Interparliamentary Group, the Canada–China and Canada–Japan Parliamentary Associations, the Canada–United Kingdom Parliamentary Association and the Canadian Branch of the Commonwealth Parliamentary Association. Elizabeth also served as Executive Secretary to the Commonwealth Women Parliamentarians (CWP), which serves to strengthen the participation of women in politics, government, and society.
Elizabeth served as both a short term and long-term observer for the presidential, then parliamentary elections in Ukraine in the spring and summer of 2019. Elizabeth recently returned from Guyana and Ukraine as an election observer for their elections in January and November 2020. Elizabeth holds a Master's degree in French Literature and is presently working on a Master's degree in Theology.
* * *
Become a member of the CIC National Capital Branch or renew your membership to help us carry out this important mission. As a member led organization, the CIC National Capital Branch convenes free, high calibre, non-partisan, thought provoking discussions on Canada's international affairs. Your membership helps engage Canadians, from all walks of life, through our network of 18 branches across Canada. Membership also provides you with special invitations, exclusive notices, and additional benefits. We look forward to counting you in our membership fold for a dynamic 2021/22 year of discussions on matters of global importance.