Flip negative events to positive outcomes! BOOK LAUNCH, presentation & soci...
Sales Have Ended
Ticket sales have ended
Sorry, early bird ticket sales for this event have closed on Sunday, September 8th, and regular priced tickets on Wednesday, September 11, 2019 :(
Sales Have Ended
Ticket sales have ended
Sorry, early bird ticket sales for this event have closed on Sunday, September 8th, and regular priced tickets on Wednesday, September 11, 2019 :(
Description
NOTE: Please be sure to PRINT AND BRING YOUR TICKET to the event for your admission.
WAIVER: Please note that this event will be videotaped (by Digitaltree) and photographed (by Flesher Photography). Your purchase of admission ticket acknowledges this and you agree to the possibility of your image being used by MarionSpeaks on her website and other communication pieces.
---
Thursday, 12 September 2019 (7:00-9:30 pm)
BOOK LAUNCH / PRESENTATION / READING of ...
THE FINKELSTEIN FACTOR: What to do when things go wrong ... because you know they will (sigh)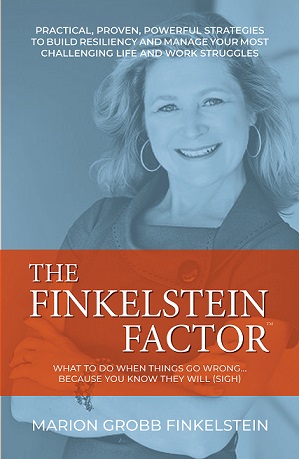 " I am so enjoying your book. I'm reading (scratch that) savoring it page by page"
~Sharon MacDonald (London, ON)
"I loved the easy read, valuable lessons, relatable examples, sensibility, wonderful insight and ... the fabulously decent size print!"
~Patti Lascelles (Ottawa, ON)
Enjoy an up-close and personal evening with Niagara Falls author, professional speaker, and communication pro, Marion Grobb Finkelstein as she launches and reads from her latest book, THE FINKELSTEIN FACTOR: WHAT TO DO WHEN THINGS GO WRONG ... BECAUSE YOU KNOW THEY WILL (SIGH). At this event, Marion shares tips, strategies, and excerpts from her book to handle life and work challenges you may be facing. The system featured in her book will help you to flip negative events into positive outcomes. Brace yourself for great insights, real-life examples, and a few chuckles along the way.
Your admission includes coffee and/or tea (plus, of course, the great presentation, book reading, and Q&A :o)
CASH wine bar available (hey, it's ladies night out, right? Guys like wine too. A professional mix'n mingle? A chance to meet new friends? Of course we'll have wine ... featuring a couple of Marion's favourite Niagara wines)
Free parking behind building and on street.
---
***PLEASE NOTE*** Apologies--this Loft 123 venue has a flight of stairs and NO ELEVATOR.
---
NOTE: LIMITED QUANTITY OF BOOKS AVAILABLE. To avoid disappointment, in addition to your admission ticket, pre-order your book(s) @ $20 special price now for pick-up at the event. Buy your copy at this event and SAVE!
---
EVENT AGENDA:
7:00 to 7:30 pm Registration, mix'n mingle, coffee/tea; CASH wine bar; pick up pre-orders of books
7:30 to 7:45 pm Take your seats, recharge your glasses, presentation begins
7:45 to 8:45 pm Marion Grobb Finkelstein shares tips and excerpts from THE FINKELSTEIN FACTOR. Followed by Q&A
8:45 to 9 pm Door prizes and closing remarks (PS: you're going to LOVE the surprise door prize)
9:00 to 9:30 (or so ...) Mix'n mingle, coffee/tea; CASH wine bar; book sales (if any copies left); book signing; photos with the author. And ...if you want to leave a videotaped testimonial, fantastic! Now is the time
COME JOIN US!
NOTE: Tickets and books are limited, so please buy your tickets and pre-order your books now to avoid disappointment.
FAQs
Who is attending this event?
Anyone interested in flipping negative events into positive outcomes... and then letting go and moving forward without guilt or regret. This is a fun night of meeting people, learning, and socializing ... and grabbing some hands-on skills you can apply to your life now!
If I buy a book, do I have to buy an admission ticket too?
Yes. All attendees must purchase an admission ticket whether they purchase a book or not.
How long are early bird admission tickets available?
Until MONDAY, September 9, 2019, early-bird admission tickets are $5 each. After that date, admission tickets are $10 each (so buy early and save!)
What's the refund policy?
No refunds.
Do I have to bring my printed ticket to the event?
Yes.
If I buy a book and can't make the event, can you mail it to me?
No. Absolutely no deliveries. You must pick-up your book at the event. If you can't do so, advise Marion@MarionSpeaks.com in advance and send someone to pick up your book on your behalf.
Is this venue accessible?
We sincerely apologize, but this building has NO ELEVATOR and requires walking up one flight of stairs.
Where do I park?
There is limited free parking behind the building. Additional street parking is available. We suggest bringing a friend and carpooling.
If I buy a ticket for my friend, do I give my friend's contact info when I purchase?
Only the buyer provides his/her contact info. When your guests arrive at the event and register, we'll scoop their names and emails then so we can send them a followup online feedback form. We want to know what everyone thinks about the event!
Can I update my registration information?
Yes, you may do so online OR contact marion@marionspeaks.com
How can I contact the organizer with any questions?
Email marion@marionspeaks.com