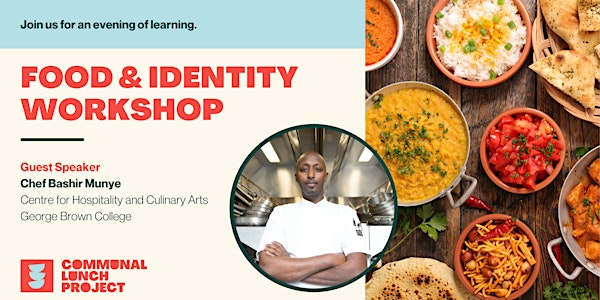 Food & Identity Workshop with Chef Bashir Munye
Please join us online for an evening of learning, which will include a cooking demo and an engaging conversation around food and identity.
About this event
Chef Bashir will talk about his own migration story and engage participants in a discussion about food and its important connection to our identity and our roots as we travel many routes in life. Join us, virtually, in his kitchen to watch him cook a meal, ask questions, and share stories about our relationships with food.
Please note that while participants will not be cooking along with Chef Bashir, they will receive the recipes for the dishes that he creates during this workshop.
ABOUT BASHIR MUNYE
Bashir Munye is a culinary professor at George Brown College, a food consultant/recipe developer, and an academic researcher. After migrating from Somalia, he grew up near the Mediterranean, where fresh, seasonal food was the cultural norm. He continues this tradition through his farmer's market operations where he connects to the local farming and artisanal food business community. He's also a passionate advocate for promoting diverse food that is representative of Toronto's many cultural communities. He believes in and advocates for access to good quality food for everyone. Follow him on Instagram and Twitter to keep up to date on his latest projects.