Event Information
Location
ATB Financial Arts Barns (Westbury Theatre)
10330 84 Avenue Northwest
Edmonton, AB T6E 2G9
Canada
Back for the first time since our sold out production of Beauty and the Beast in 2019, we are proud to present Sondheim's Into the Woods!
About this event
Foote in the Door Productions Presents: Into the Woods
***SHOW UPDATE (January 9). Due to the rising numbers of the current wave, Foote in the Door has decided to reduce their run from January 21-30, 2022 to only one weekend, January 21-23, 2022 in order to protect the health and safety of their team and patrons.
Following their successful 2019 production of Disney's Beauty and the Beast, Foote in the Door Productions presents the Tony Award Winning INTO THE WOODS to open their 2022 season. With an all local cast, crew and orchestra, we bring you one of Sondheim's most popular works.
James Lapine and Stephen Sondheim take everyone's favorite storybook characters and bring them together for a timeless, yet relevant, piece... and a rare modern classic.
The story follows a Baker and his wife, who wish to have a child; Cinderella, who wishes to attend the King's Festival; and Jack, who wishes his cow would give milk. When the Baker and his wife learn that they cannot have a child because of a Witch's curse, the two set off on a journey to break the curse. On their quest to break the curse, we meet more than one handsome prince, Little Red, Rapunzel, and many others. Everyone's wish is granted, but the consequences of their actions return to haunt them later with disastrous results. This musical was the inspiration for the 2014 hit film, starring Meryl Streep, Anna Kendrick, James Corden and Emily Blunt.
INTO THE WOODS explores what happens when "happily ever after" doesn't unfold quite as planned.
Best suited for ages 10 and up
Tickets: Adults $29.50, Students/Seniors $24.50. 
Running Time: 2 hours and 45 minutes including one 15 minute intermission.
Director: Trish van Doornum
Music Direction: Daniel Belland
Choreographer: Melanie Lafleur
Stage Manager: Mary-Ellen Perley
*Show photography by Nanc Price Photography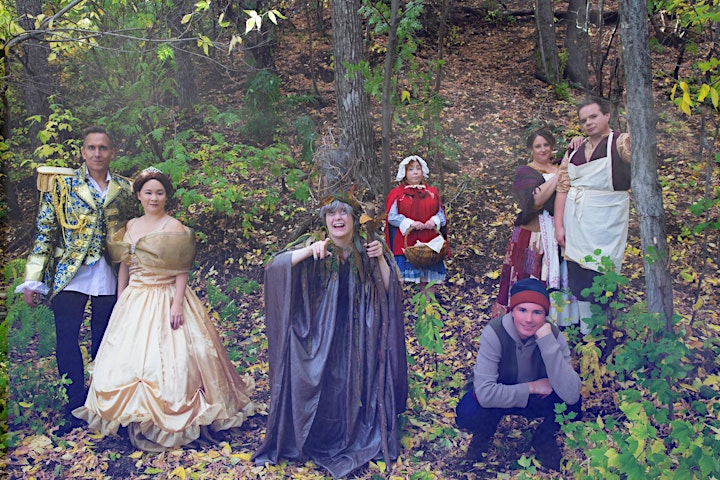 Location
ATB Financial Arts Barns (Westbury Theatre)
10330 84 Avenue Northwest
Edmonton, AB T6E 2G9
Canada
Refund policy