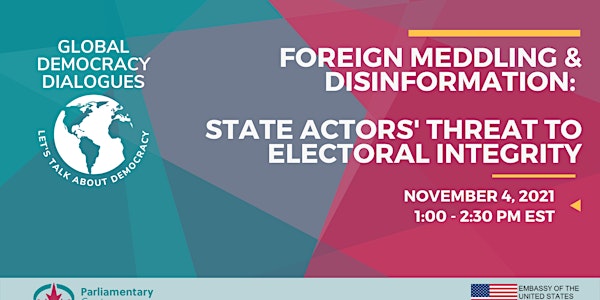 Foreign Meddling & Disinformation: State Actors Threat to Democracy
Foreign Meddling & Disinformation: State actors' influence in undermining the integrity of democratic elections
About this event
Malign foreign actors pose a major threat to global elections and democracy. This dialogue examines tactics of foreign disinformation campaigns and cybersecurity and discusses effective strategies to defend democratic processes.
Hostile foreign disinformation is no longer a platform-based problem, it is an ecosystem. We'll look at causes and drivers, including the connection between gender-based disinformation and authoritarian strategy.
What are upstream and downstream entry points for action?
Where are entry points for different actors, from states and legislatures to intelligence & security communities to digital activism/technology groups?
How to approach coordination of malign foreign actors?
How to/should we prioritize entry points?
Join us as we discuss these questions and more.
INVITED GUESTS
• Christopher Walker, Vice President for Studies & Analysis, National Endowment for Democracy, author of "What is Sharp Power?"
• Shelby Grossman, Research Scholar, Stanford Internet Observatory
• Kristina Wilfore, Co-Founder, #ShePersisted
and
• Gallit Dobner, Director, Centre for International Digital Policy, Global Affairs Canada
• Marcus Kolga, Founder, Disinfowatch.org & Senior Fellow, Macdonald-Laurier Institute
• Farhaan Ladhani, CEO, Digital Public Square