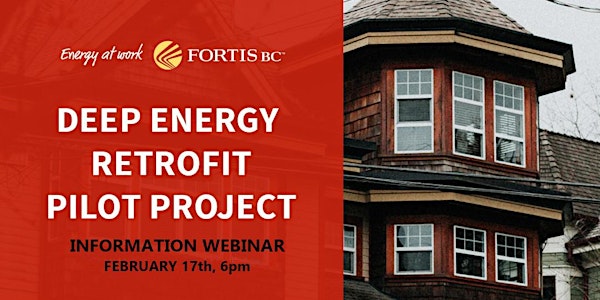 FortisBC Deep Energy Retrofit Pilot Program Information Webinar
In this webinar, we'll provide you with detailed information about FortisBC Deep Energy Retrofit Pilot Program. Have questions? Ask us!
About this event
FortisBC is committed to helping British Columbia achieve its climate goals by supporting our customers to reduce their energy consumption and greenhouse gas (GHG) emissions, and has developed this Pilot Program to see "how low can you go" towards net zero emissions with natural gas as a primary space and domestic hot water heating source. If selected as a participant, you will receive rebates from FortisBC to upgrade your building envelope and mechanical systems along with technical support from a team of experts to work through a comprehensive deep energy retrofit of your home.
This webinar will feature:
Overview of the Pilot and Benefits for Participants
What is a Deep Energy Retrofit (DER)?
Typical Home Energy Upgrades
Application Process, Participant Eligibility, and Pilot Steps/Timeline
Questions & Answers
This is a FREE webinar, but you must register to attend. It will be presented via Zoom, a virtual meeting platform, and you will receive a confirmation email upon registration and a reminder one day prior.
Note: A recorded version of the webinar will be made available for those unable to attend the live webinar. Please register for the live webinar to receive the recording.