Multiple Dates
Free Information Session: Income Tax Return Preparation
You are invited to an information session with an accountant to discuss about preparing your income tax returns.
About this event
Upcoming Event: Income Tax Return Preparation Information Session (Free)
⭐️Prerequisites: No prior knowledge is required.
You are invited to join a 30 minutes information session with a Chartered Professional Accountant (CPA).
⭐️What can you expect from our event?
A one-on-one information session with an accountant.
You will obtain personal tax return preparation tips.
You will learn about how we can assist you on preparing your tax returns.
You will have the opportunity to discuss your tax questions or concerns that you may have within this session.
Whether you are student, senior, family, employed, a professional, self-employed or in business, you will benefit from this information session.
⭐️Bonus:
Participants will receive a free copy of the up-to-date Personal Tax Planner Guide (2019-2020) which contains 202 pages of useful tax information developed by CPA Canada. Limited quantities for the first 15 participants.
Participants will also receive $20 off for their first Income Tax Returns with us. Limited one discount per customer. (Enter Promo Code at our website: Tax2019 ).
⭐️Benefits: At the end of the session, you will have the information needed to better prepare you for filing your 2019 tax return.
⭐️Places are limited. We will contact you to schedule a time slot after registration.
For further information, you may visit our website or contact us by email or phone.
Email us at Alice@WestVanCPA.com
Call/Text us at 604-213-9798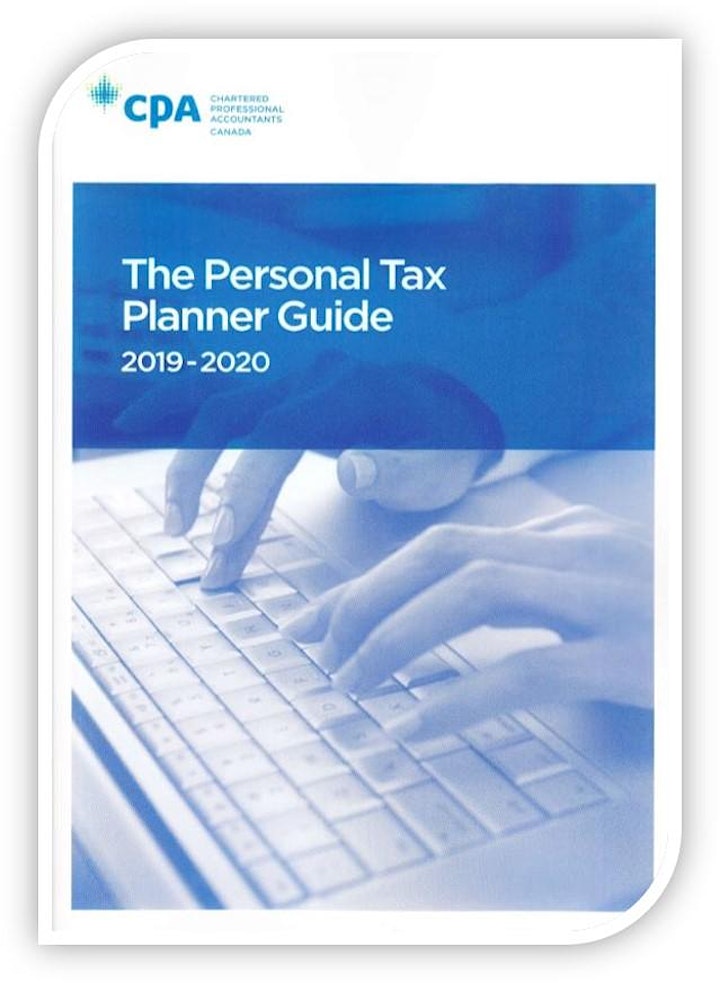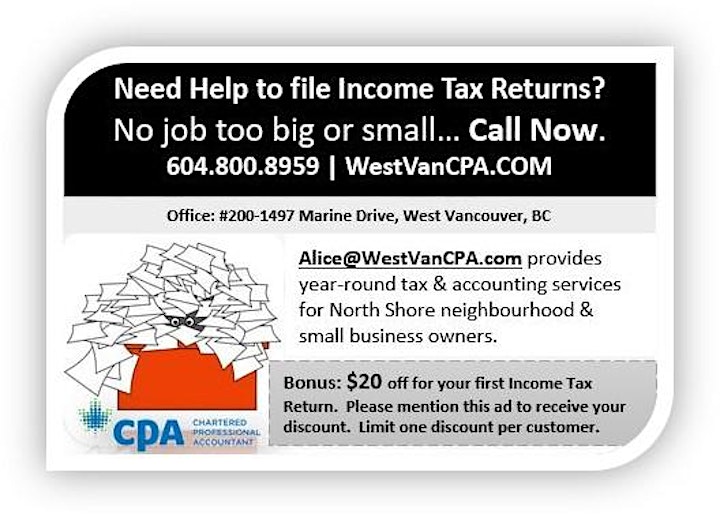 Organizer of Free Information Session: Income Tax Return Preparation
Alice Cretelli, a Chartered Professional Accountant (CPA,CMA) and licensed public practice practitioner in British Columbia.  Her accounting firm is located at West Vancouver's Ambleside Village, providing a personalized accounting & tax solution for individuals & small business owners throughout North Shore & the Lower Mainland.
She is also a registered volunteer & Community Connect Network member of the Financial Literacy Volunteer program, which developed by the Chartered Professional Accountant of Canada (CPA Canada).
Alice earned her professional accounting designation in 2005 as a Certified Management Accountant (CMA), which is now known as Chartered Professional Accountant (CPA, CMA) since May 2017.  
She also has a bachelor degree in Economics and a post-baccalaureate Diploma in Accounting from the University of British Columbia (UBC).