Description
Spend your lunch hour stretching, twisting, and breathing and add some calm to your day. Special thanks to our partner Modo Yoga Danforth!

• No previous yoga experience required.
• Please wear comfortable clothing.
• Washrooms are available for changing.
• Please bring your own yoga mat & water bottle.
Class capacity is 40 participants. 15 spots are being reserved for drop-in participants. Please arrive early to sign-in. Latecomers will not be allowed entrance.
Class Location & Arrival Information
Location: The Sony Centre For The Performing Arts, Rehearsal Hall

Entrance: Yonge Street Entrance (located along Yonge Street on the west side of the building halfway between Front St. and Esplanade - SEE PHOTO BELOW).

Doors will open at 11:45AM

Community Class Liability Waiver. As a participant, you only need to complete and return this form once. After that, you are eligible to participate in all community classes. Copies of this form are available upon arrival at each class. Alternatively, you may print and complete this form in advance and bring it with you to your first class.

Waitlist & Drop-In Information
Waitlist: If the Eventbrite Registration is full, we encourage you to join the waitlist! We will contact the waitlist with a class reminder and any updates regarding the number of available drop-in spots. If you are not contacted by Eventbrite to join the class, you are welcome to attend as a drop-in participant (first come, first served).

Drop-ins: Regardless of being on the waitlist, anyone is welcome to arrive as a drop-in participant. We will reserve 15 spots per class for drop-ins and will allow additional drop-ins up to the capacity of the class in case there are cancellations or no-shows.
Eventbrite Registration Policy
Cancellation Deadline - 24 hours prior to the class. If you discover you are no longer able to attend, we kindly ask that you cancel your order or email education@sonycentre.ca to notify us a minimum of 24 hours prior to the class.

After three "no-show" instances or three cancellations received with less than 24 hours' notice, CTT reserves the right to cancel any future Eventbrite orders you may have for Sony Centre Community Classes. If your Eventbrite Registration is cancelled, please note you are still welcome to attend as a drop-in participant if space is available!

YONGE STREET ENTRANCE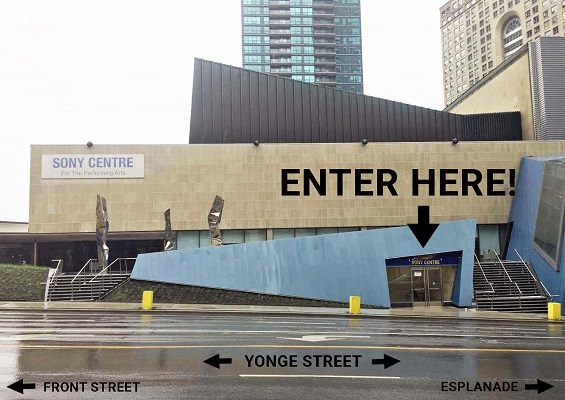 Organizer of FREE Lunch time Yoga Classes