Join us for a workshop series elevating how the work of BIPOC folk in the co-op movement is a necessary means of resistance & survival.
About this event
Freedom Dreams Co-operative Education Program is an online and place-based workshop series that shares knowledge about co-operatives and the solidarity economy from a Black, Indigenous and Person of Colour (BIPOC) perspective.
Episode 1 - Transformation on Our Own Terms: BIPOC-led Co-ops Then and Now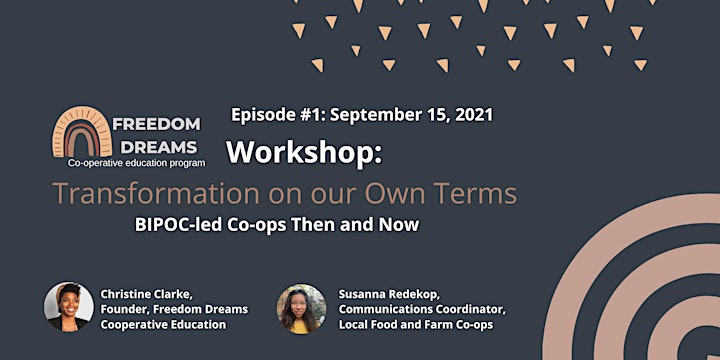 Solutions for us and by us has been the cornerstone of co-operative work among BIPOC folks marginalized by mainstream institutions. Join us for an introductory workshop into the co-op model and how it's empowered our own forms of community economic development.
In the first of our fall workshops, Freedom Dreams' co-founder Christine Clarke and Susanna Redekop, Communications Coordinator for Local Food and Farm Co-ops and Masters student at York University, explore what are co-ops and why have they been an enduring tool for economic development among BIPOC communities in Canada and worldwide.
When: September 15, 2021
Time: 6-7:30pm ET

Episode 2 - Co-ops For Liberation: The Role of Co-ops in the Fight for Social Justice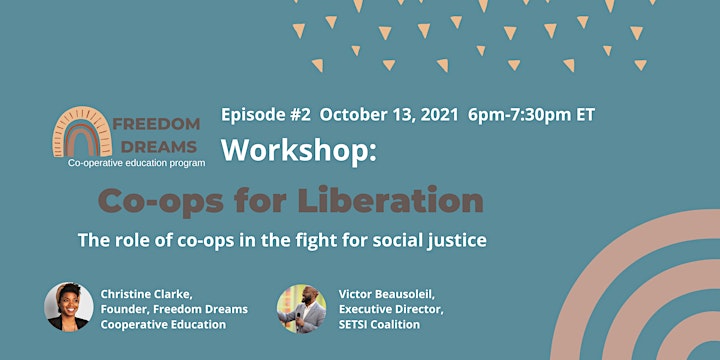 In times of crisis, BIPOC folks didn't seek to repair the systems that failed us, we sought and fought to reimagine them.
In our second workshop, Victor Beausoleil, founder and Executive Director of SETSI – The Social Economy Through Social Inclusion Coalition, joins us to look at the historical and current role co-ops play in the fight for social justice and how co-ops can be powerful tools for social change.
When: October 13, 2021
Time: 6-7:30pm ET

Episode 3 - Nourishing Belonging: Forging Co-operation in Food and Farming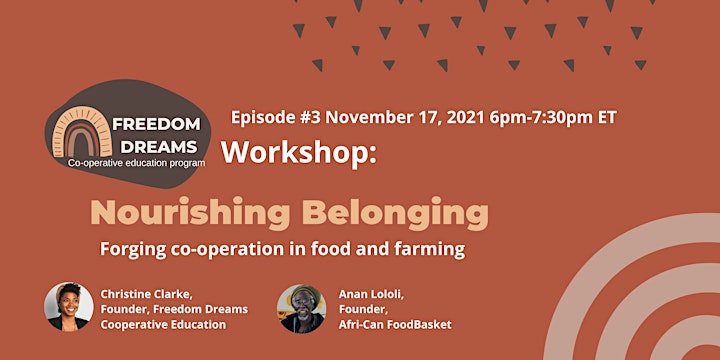 When resources were scarce, BIPOC folks worked the land together in a spirit of abundance. In our third workshop, Afri-Can FoodBasket founder and farmer Anan Lololi joins us for a look at how co-ops offer a sustainable approach for small-scale food and farm businesses.
When: November 17, 2021
Time: 6-7:30pm ET

Episode 4 - Freedom Dreaming: Creating Co-ops that Empower & Enliven Community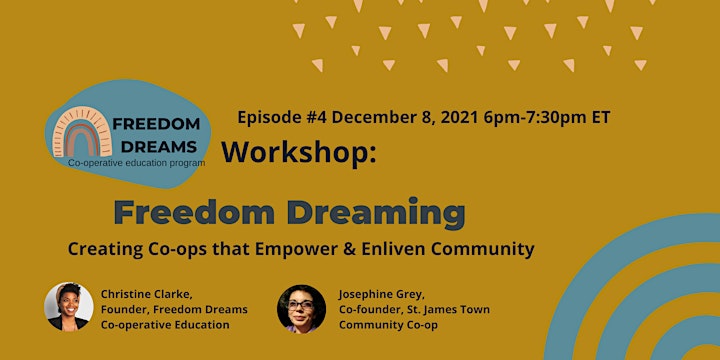 Community-led solutions lead to transformative social change and co-ops put the power to shape our realities and decide our own futures back into people's hands. Community organizer and human rights advocate Josephine Grey of St. James Town Community Co-op joins us to explore impact co-op models that meet community needs.