Description
Join us for a day-long seminar designed to help you succeed as an independent content producer!
EVENT SCHEDULE
9:30- 10:00

REGISTRATION
10:00 - 12:00
WORKSHOP - HOW TO FIND WORK AND PITCH YOUR STORIES! With award-winning editor Jane Auster.
12:00 - 12:30
Presentation by TANYA SPRINGER of CBC RADIO'S 'DOC PROJECT'.
12:30 - 1:30
LUNCH
1:30 - 3:30
WORKSHOP - CONTRACTS AND NEGOTIATIONS. This session will familiarize you with some of the standard contracts you may see as a freelancer, while explaining concepts such as copyright, re-use, liability and indemnification. It will discuss strategies you can use when negotiating contracts and payments, and explore why standing up for yourself is an important business decision. With award-winning journalist Alison Motluk.

3:30 - 5:00
SPEED MENTORING - have a mentor look at your story, idea or query for feedback! Featuring, Josh Visser (VICE.com), Arif Noorani (CBC), Jane Auster (Freelancer).

COST
Free for CMG Freelance members!
For non-members: $150 - includes lunch and a year-long membership to CMG Freelance
NEW! Members of the following organizations are eligible for a 40% discount on the course: CWA Canada Associate Members, TMAC, SATW, and FBCW. If you're a member, get in contact with your organization to find out more about how to register at the discounted rate!
ACCESSIBILITY
This venue is wheelchair accessible.
SPEAKERS
ALISON MOTLUK is an award-winning journalist, who has been freelance for 17 years. Her print work appears in The Economist, The Walrus, The Globe and Mail, Hazlitt, Maisonneuve, CMAJ News, New Scientist, Nature and elsewhere. Her radio pieces have aired on IDEAS, Quirks and Quarks, The Current and The Sunday Edition. She does not remember the last time she signed a contract without negotiating changes.
DON GENOVA is the president of the Canadian Media Guild Freelance Branch and also works for CMG as an Organizer, recruiting new members for the Freelance Branch. Outside of his union activity, Don is also an award-winning freelance food journalist based in Victoria, BC. He has written for the Globe and Mail, National Post, and many other newspapers and magazines. Don's many radio features about food were heard across the country on CBC Radio. His first book, a BC-best seller, Food Artisans of Vancouver Island and the Gulf Islands, was published in April 2014 by TouchWood Editions.

JANE W. AUSTER (www.janeauster.com), president of Jane Widerman Communications Inc., is an award-winning freelance writer/editor based in Toronto, Canada. She is the editor of two industry-leading publications and digital sites, including Your Foodservice Manager and FoodBiz.ca, and the founding editor of a successful U.S. magazine, BoomerLife. In addition, she has been a writer and editor for many of the major Canadian print media markets.
TANYA SPRINGER, CBC's Doc Project Tanya Springer is an award-winning journalist and radio producer with over 10 years experience in content creation, digital media and project management. During her time with CBC Tanya has worked for some of the network's flagship programs, including The National, George Stroumboulopoulos Tonight, and As it Happens. She has produced radio documentaries for shows like The Current, The Sunday Edition, and NPR's The World. Tanya is the creator and coordinator of The Doc Project; an ongoing nation-wide professional development initiative, and weekly syndicated program on CBC Radio One. She is a graduate of Carleton University's Master of Journalism program, and also holds a degree in International Development Studies from the University of Guelph.

MENTORS
ARIF NOORANI, Executive Producer, CBC New Programs
JANE W. AUSTER (see bio above)

JOSH VISSER - Managing Editor, VICE.com Canada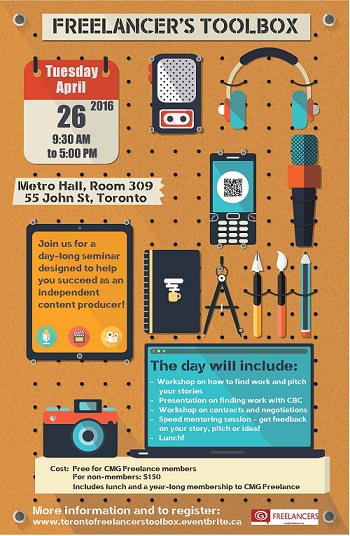 In Vancouver? Great! We are planning a Freelancer's Toolbox there too. On Thursday, April 28th. Register at: www.vancouverfreelancerstoolbox.eventbrite.ca