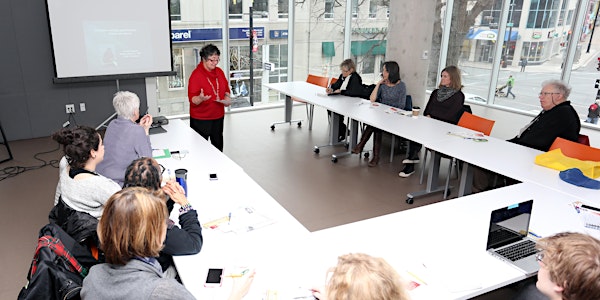 Freelancer's Toolbox Vancouver
When and where
Location
The Post 750 110-750 Hamilton St Vancouver, BC V6B 2R5 Canada
Description
Join us for a day-long seminar designed to help you succeed as an independent content producer!
EVENT SCHEDULE
9:30 - 10:00

REGISTRATION
10:00 - 12:30

WORKSHOP - HOW TO FIND WORK AND PITCH YOUR STORIES! With award-winning freelance journalism instructor Jennifer Van Evra.

12:30 - 1:00

Presentation on HOW TO FIND WORK AT CBC RADIO CURRENT AFFAIRS with executive producer Shiral Tobin.
1:00 - 1:45

LUNCH
1:45 - 3:30
WORKSHOP - CONTRACTS AND NEGOTIATIONS. Don Genova, award-winning freelancer and president of CMG Freelance, and Patty Ducharme, Western Staff Representative from the Canadian Media Guild. This session will familiarize participants with some of the standard contracts they may receive as part of doing business with a client, while explaining the concepts around copyright, moral rights, re-use, and liability. It will also introduce some basic strategies you can use when negotiating contracts and payments.
3:30 - 5:00
SPEED MENTORING - have a mentor look at your story, idea or query for feedback!
COST
Free for CMG Freelance members!
For non-members: $150 - includes lunch and a year-long membership to CMG Freelance
NEW! Members of the following organizations are eligible for a 40% discount on the course: CWA Canada Associate Members, TMAC, SATW, and FBCW. If you're a member, get in contact with your organization to find out more about how to register at the discounted rate!

ACCESSIBILITY
This is a scent-free event, so please refrain from using perfumes or fragrances.
The venue is wheelchair accessible, via the CBC Broadcast Centre at 700 Hamilton St.
This venue has gender-neutral, wheelchair accessible washrooms.
SPEAKERS
DON GENOVA is the president of the Canadian Media Guild Freelance Branch and also works for CMG as an Organizer, recruiting new members for the Freelance Branch. Outside of his union activity, Don is also an award-winning freelance food journalist based in Victoria, BC. He has written for the Globe and Mail, National Post, and many other newspapers and magazines. Don's many radio features about food were heard across the country on CBC Radio. His first book, a BC-best seller, Food Artisans of Vancouver Island and the Gulf Islands, was published in April 2014 by TouchWood Editions.

JENNIFER VAN EVRA is an award-winning Vancouver writer, broadcaster and UBC instructor. Her work has appeared in dozens of publications, including The Globe and Mail, the Vancouver Sun, Vancouver magazine, Mother Jones, Equinox, International Architecture and Design and many more. She is also a CBC producer, reporter and broadcaster, and a longtime freelance writing instructor at the University of British Columbia. In 2013, she was awarded the UBC Continuing Studies John K. Friesen Excellence in Teaching Award.
PATTY DUCHARME - Canadian Media Guild, Western Staff Representative. Patty Ducharme has been an activist, elected official and staff person in the labour movement for 20 years. She has handled grievances, sat on negotiating teams as a team member and as an officer (notably with Treasury Board of Canada, Canada Post and the Canada Customs and Revenue Agency), led bargaining, developed education courses, and promoted equity. During her time as a National Officer for the Public Service Alliance of Canada, she was responsible for a host of specific bargaining units and eventually was responsible for the entire negotiations portfolio for PSAC. Patty sees negotiations as an opportunity to decide what is important to you--be that in the workplace or in your personal life--and get it. Figuring out what you want and framing the ask are, more often than not, the biggest challenges in the negotiations process.

MENTORS

JENNIFER VAN EVRA (see bio above)
ROBERTA STALEY is an award-winning magazine editor and writer with experience reporting from the developing world and conflict and post-conflict zones. She currently edits the Canadian Chemical News, a national magazine for the chemical sciences sector, and previously edited the financial publication Enterprise. Staley specializes in medical, science and international stories, and has reported from Afghanistan, El Salvador, Haiti, Colombia, Cambodia, Soweto in South Africa, Israel and New Zealand, covering HIV-AIDS, the environment, culture, education, fashion, gender equality and business. She has written for a variety of publications, including BCBusiness, Vancouver, Corporate Knights, ELLE Canada, Trek, Montecristo, The Georgia Straight, Maclean's and Reader's Digest. Staley is also a regular columnist with Just for Canadian Doctors and Just for Canadian Dentists. This past summer, Staley shot a documentary in Afghanistan titled Mightier Than The Sword, about female journalists and filmmakers and their impact on gender equality and gender perceptions. The one-hour documentary is in post-production and expected to premiere this summer in Vancouver.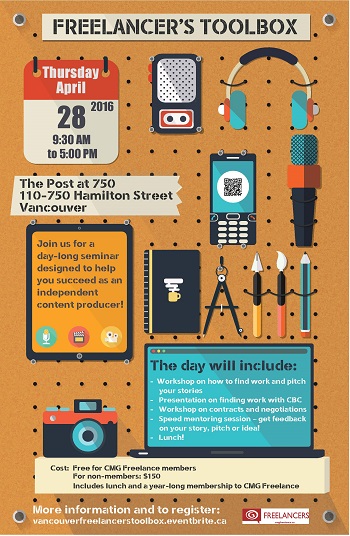 In Toronto? Great! We are planning a Freelancer's Toolbox there too. On Tuesday, April 26th. Register at: www.torontofreelancerstoolbox.eventbrite.ca