Join Mending the Chasm for this four-part interactive conversation as we explore community dimensions of resilience.
About this Event
2020 is a year that will undoubtedly go down in history as one of the most challenging times in recent memory. From the global COVID-19 pandemic, the rise of Black Lives Matter, the growing climate crisis, and the sharp rise in environmental and natural disasters, this moment is inviting us to dig deep to ensure we have the strength, innovation, and resilience to face these challenges.
Leveraging resilience that is within each of us, and creating conditions that allow systemic resilience to emerge is more important now than ever before.
Join Leena Sharma Seth, Kale Black, and Anna Kiani on Zoom for this four-part interactive conversation as we use an interdisciplinary and intersectional approach to explore:
• Different definitions and approaches to resilience
• Why is resilient leadership necessary?
• What are the characteristics of resilient systems?
• How can we build individual resilience? Community resilience? Systems resilience?
Each week we will also feature a guest speaker. Stay tuned for an announcement each week!
Week 1: Wednesday, November 18th, 2020 at 11 am
In this conversation, we'll set the stage for the series and each panelist will introduce their perspective of the topic and the why behind their passionate interest in this topic. Together, Leena, Anna and Kale will animate the importance of resilience from their respective lenses.
Week 2: Wednesday, November 25th, 2020 at 11 am
This session will explore individual resilience and the connection between personal resilience in leaders and the ways that foster community-level resilience. We will examine the role of reflection, a posture of learning, and relationship building in developing and enhancing capacity for resilient leadership.
Week 3: Wednesday, December 2nd, 2020 at 11 am
Viewing resilience building as an ongoing process, rather than a fixed goal, this week we explore the foundations of resilience that support this ongoing process. We explore utilizing an asset-based approach to identifying and accessing dimensions of resilience.
Week 4: Wednesday, December 9th, 2020 at 11 am
In our final session, we'll integrate the learnings we've had so far and consider the role of systems in individual and community resilience. How do we tap into the resilience of larger systems?
Registered participants will receive a Zoom link and a link to the recording afterwards.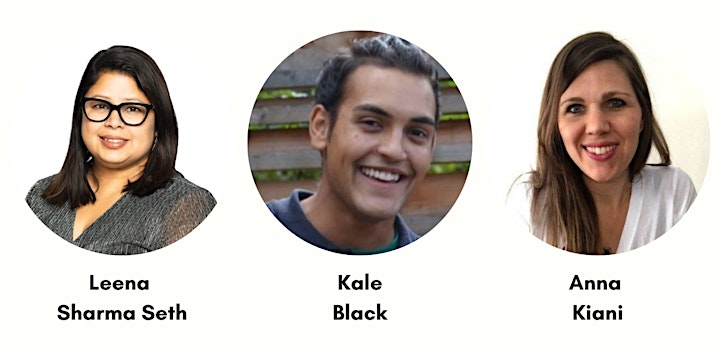 About the Panel
Leena Sharma Seth is a passionate systems-change leader who works with leaders and organizations to build cultures that are inclusive, equitable, and anti-racist. As the Founder & Principal of Mending the Chasm, Leena teaches leaders she works with about the importance of developing the cultural and emotional resilience required to do anti-racism work and to enable cultural transformation.
Kale Black is an award-winning Environmentalist and Community Organizer, with over a decade of experience working as a Youth Network Facilitator within the eco-conscious movement. An inspiring, honest, funny, and enthusiastic speaker and facilitator, Kale has a knack for connecting with audiences of all ages and is committed to creating safe spaces needed for community-transformation & engagement.
Anna Kiani is a dedicated community builder with nearly two decades of international and local Candian experience working in various roles in the non-profit sector. Anna holds a Masters in Disaster and Emergency Management and an undergraduate degree in International Studies with a focus on Community Development. She has expertise in the use of sustainable development practices, and effective stakeholder engagement, to increase overall community resilience.
About Mending the Chasm
At Mending the Chasm, we meet people where they are and take them where they need to go. We specialize in coaching, consulting, strategy development, and inclusion, equity, and anti-racism training.