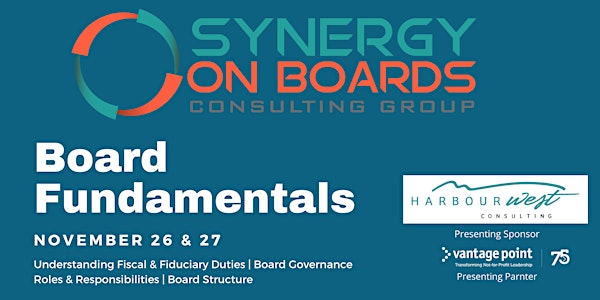 Fundamentals of Board Governance
All boards, regardless of the size and type , share common governance responsibilities including oversight, foresight & insight.
Refund Policy
Contact the organizer to request a refund.
Eventbrite's fee is nonrefundable.
About this event
Welcome to our first virtual event, Board Fundamentals.
Synergy on Boards Consulting Group is excited to offer this 2 day workshop for anyone interested in serving on a board or currently serving on one. This training will cover a range of topics relevant to private and non profit boards. Attendees will gain practical knowledge, new insights and learn from experienced facilitators and industry experts.
Details
This two-day training equips participants with the knowledge, confidence, skills and increased competence to serve on various kinds of Boards. As a result of attending this training, participants will walk away with:
An understanding of the organization structures in Canada and the different governance models.
A clear understanding of the oversight and fiduciary duties of a board.
An understanding of the foresight and the strategic roles of boards.
Increased clarity on the roles of the Board, Director and CEO / ED.
Knowledge of what to look for before joining the board.
Sample Agenda (2 full days)
Introductions to Boards
Describe the different types of organizations in Canada and their governing documents and legal structure.
Describe different board structures and models.
Articulate things to consider before joining a board
Describe the importance of diversity on boards, within the context of the EDI 'movement'.
Roles and Responsibilities of a Board
Define fiduciary and identify the fiduciary responsibilities of the board (financial and non-financial).
Describe the strategic role of the board.
Articulate the importance of generative leadership.
Contributing to a strong organization as a board member
Describe your legal responsibilities as an individual board member.
Articulate strategies for managing conflict of interest.
Apply tools for effective board meetings.
Describe the role of committees and how to implement them effectively.
Differentiate between your role as a board member and the role of staff, and describe how to interact with senior staff.
Deep dive
In this module we will take a deep dive into selected topics including:
The Board's role in human resources.
The Board's Role in Revenue development.
The Board's role in financial management.
Risk Management.
All participants will also:
Delivered in partnership with Vantage Point

Delivered in partnership with Harbour West Consulting