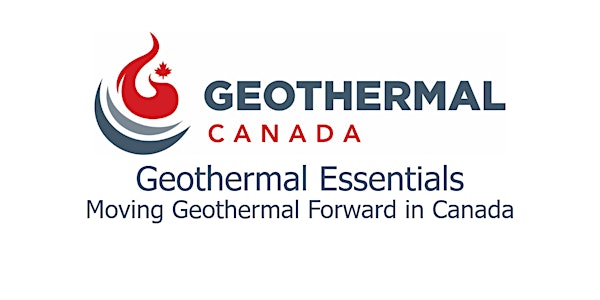 Geothermal Essentials - Moving Geothermal Forward in Canada
A weekly lecture series covering the essentials of geothermal energy delivered by industry experts. Free for Geothermal Canada members!
Refund Policy
Refunds up to 1 day before event
Eventbrite's fee is nonrefundable.
About this event
In response to requests from our membership, Geothermal Canada has pulled together a group of experts to provide a comprehensive course on geothermal development. Covering basic technical concepts to commercial and financial considerations, the course will be presented as 16 one hour sessions delivered weekly. Hosted by Dr. Catherine Hickson, P. Geo, a 40 year veteran of the geothermal industry, she will draw from the expertise of notable geothermal experts such as Dr. Steve Grasby, Geological Survey of Canada, Dr. Jasmin Raymond, INRS Quebec, Dr. Maurice Dusseault, University of Waterloo, Dr. Martyn Unsworth, University of Alberta, and others.
Free for Geothermal Canada members (see member email for promocode). Promocode to be inserted during reservation process.
Access to all 16 lectures is included with a Geothermal Canada membership ($40/year). Lectures will also be available on demand for members shortly after the live event. Become a member now!
The course is intended to be "a la carte" – each session is independent, but the sessions build on each other to provide a complete overview of the important aspects of geothermal development.
Lectures will be ~45 minutes and ~15 minutes of Q & A.
December 8, 2021 - Introduction to Geothermal
December 15, 2021 - Decarbonizing the Built Environment with Geo-Exchange (GX)
January 5, 2022 - EGS and Closed Loop Technologies
January 12, 2022 - Environmental and Societal Impacts of Geothermal Systems
January 19, 2022 - Exploration for Geothermal in a Sedimentary Basin
January 26, 2022 - Synergies with Existing Oil and Gas Infrastructure
February 2, 2022 - Exploration for Geothermal in Other Geological Settings
February 9, 2022 - Rock Mechanics
February 16, 2022 - Fluid Chemistry and Electrical Submersible Pumps (ESP) considerations
February 23, 2022 - Wells and Power Plants
March 2, 2022 - Reservoir Properties and Sustainability
March 9, 2022 - Well Stimulation
March 10, 2022 - Induced Seismicity
March 16, 2022 - Scaling and Corrosion
March 23, 2022 - Commercial Considerations
March 30, 2022 - UN Framework for Resource Evaluation
April 6, 2022 - Hurdles and Challenges to Develop an Industry in Canada
(January, 2022 - Subject to modification and update)