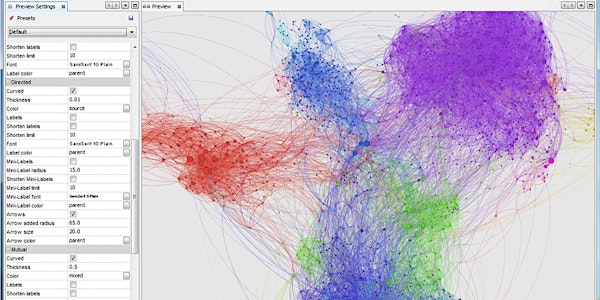 Gephi
Outil de visualisation des réseaux | Network visualization tool
About this event
La visualisation des données est généralement l'une des étapes les plus importantes de l'interprétation des données et de la communication des résultats de recherche. Dans la première partie de la série d'ateliers sur la visualisation des données, nous utiliserons Gephi pour étudier la visualisation des réseaux. Par exemple, il peut s'agir de réseaux de personnes et de la façon dont elles sont interconnectées. Bien que cela puisse être fait manuellement pour quelques douzaines de personnes, lorsque vous arriverez à quelques centaines, vous voudrez une certaine automatisation pour vous aider.
L'atelier sera présentés en anglais, mais les participants pourront poser des questions en français et en anglais.
---
Visualization of data is usually one of the most important steps when interpreting the data and also for conveying the results. In the first part of the Data Visualization workshop series, we'll use Gephi to investigate visualizing networks. For example, these can be networks of people and how they are connected to each other. While this can be done manually for a few dozen people, when you get to a few hundred, you will want some automation to help you.