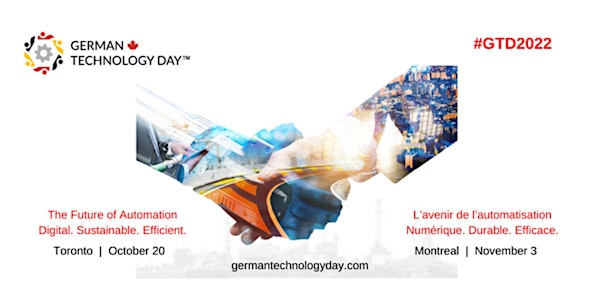 German Technology Day 2022 - Toronto
THE FUTURE OF AUTOMATION: DIGITAL. SUSTAINABLE. EFFICIENT. www.germantechnologyday.com
When and where
Location
Humber College 205 Humber College Boulevard Toronto, ON M9W 5L7 Canada
About this event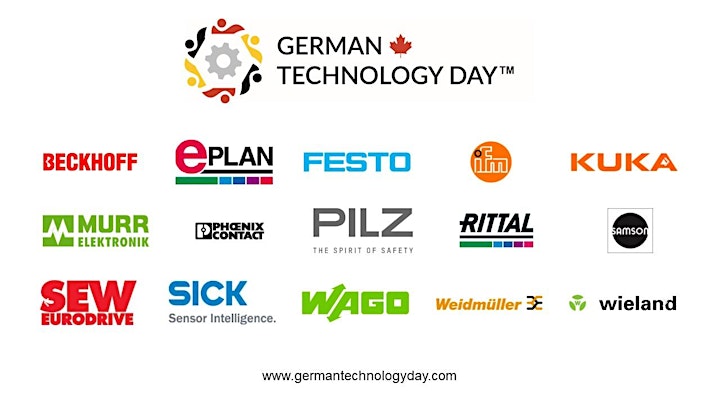 German Canadian companies in collaboration.
We invite you to join us in a newly reimagined version of the showcase that offers interactive pathways for participation. It is time for all of us to work collaboratively and build up a wealth of best practices so we can better serve our customers in Canada
We look forward to continuing to share more about what innovation means to us as the GTD event comes to a city near you. Whether this is your first GTD or your fourth, we are looking forward to collaborating with each of you as we count down to a great showcase event together! Register Today!
This year we are excited to offer a host of deep-dive experiences through our Innovation Hub and Technology Workshops.
Where and when does the event take place?
Parking
Parking is available in the Parking Garage on the right of Barrett Centre for Technology Innovation when you enter from Gate A (Arboretum Blvd). You will obtain a parking voucher upon entry into the lot. At registration, the GTD team will provide a validated parking voucher to you that you can use as you exit the lot.
Who is the event for?
The event is targeted towards engineers, technicians, and supply chain professionals in industrial manufacturing, however will include industry trends and high level concepts suitable for managers and executives.
Agenda
8:00 am - 9:00 am
Registration, Breakfast and Tour Innovation Booths
9:00 am - 9:25 am
Sessions
9:30 am -10:15 am
Room 1 Ifm: Real Time Maintenance (RTM)
Room 2 MURRELEKTONIK: Industrial Network Connectivity Made Easy
Room 3 WIELAND: Decentralized Power Distribution for Manufacturing: Best Practices
10:20 am -11:05 am
Room 1 SICK Sensor Intelligence: Unlocking the full potential of Sensor Intelligence
Room 2 PILZ: PITmode: Unlocking your access management and security potential
Room 3 SEW EURODRIVE: Decentralized Gear Motor Installations: Digital, Sustainable & Cost Efficient
11:10 am -11:55 am
Room 1 KUKA: Key Technological Advancements in Robotics
Room 2 Weidmueller: The Easy Way To Industrial Internet Of Things: From Data To Value
Room 3 WAGO: IIoT Remote Monitoring Simplified
12:00 pm -1:25pm
Lunch, Innovation Booths & Collaborative Automation Hub Workshop
1:30 pm - 2:15 pm
Room 1 Beckhoff: Revolutionizing Automation Technology
Room 2 Rittal: The Integrated Rittal-Eplan Value Chain: Digitalization in Switchgear and Panel Building
Room 3 Phoenix Contact: Digital Factory Now
2:20 pm - 3:05 pm
Room 1 SAMSON: Embedded AI in Smart Positioners providing prescriptive maintenance
Room 2 EPLAN: Benefits of the Rittal-Eplan Value Chain: From Smart to Digital to Collaborative
Room 3 FESTO: Filling the Training Gap With Workforce Development
3:10 pm - 4:00 pm