Description
Guest Speaker: Farrah Khan picked up a microphone to speak out about sexual assault as a teenager and has not put it down since. Farrah's innovative research, passion, and sense of humour create an engaging dialogue that emphasizes pleasure and fun while addressing topics of consent and sexual assault prevention.
Farrah Khan was named in 2015 the co-chair of Ontario's first permanent provincial roundtable on Violence Against Women. Farrah is currently the Sexual Violence Support and Education Coordinator at Ryerson University.

Join us for a talk with Farrah, followed by a panel discussion to address sexual violence and resources for individuals affected by sexual violence.

Panelist will include:
Amanda Cook, Sexual Violence Response Coordinator

Antonio Brieva, President, Federation of Students

Cheri Bilitz, Counselling Services

Joan Tuchlinsky, Sexual Assault Support Centre of Waterloo Region

Catherine Fife, MPP for Kitchener-Waterloo

Use #ASKatUW to be a part of the conversation.
---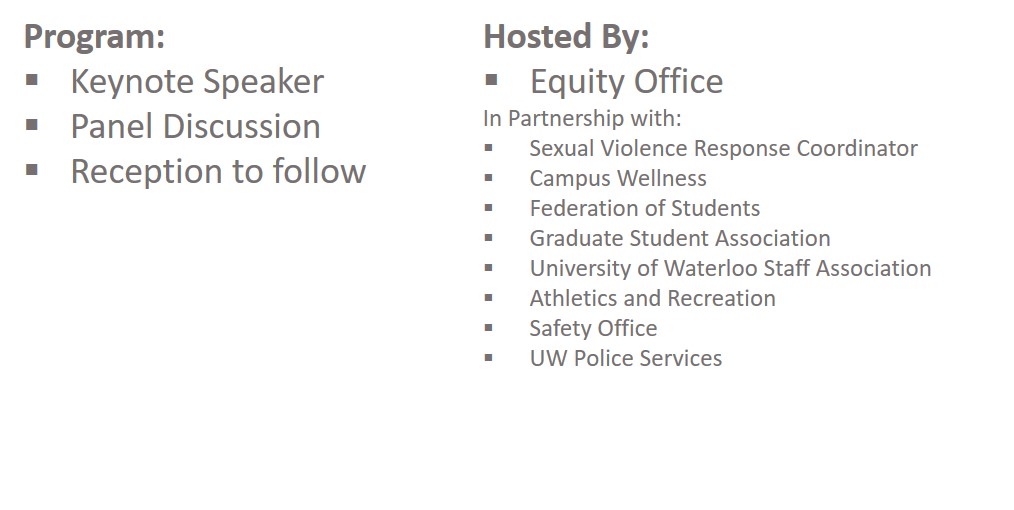 ---
All students, staff and faculty are welcome to attend. Guests will have the opportunity to engage in dialogue about this important issue.
The Event will take place on October 23rd, at the Theatre of the Arts - Modern Languages, Room 135. Doors open at 3:45pm. There will be refreshments provided. Seating is limited, please RSVP.
For questions or accommodation-related needs please contact: The Equity Office.
---
https://uwaterloo.ca/equity/getconsent-askatuwevent
https://uwaterloo.ca/equity/getconsent-askatuw
---
Like us on Facebook:


Follow us on Twitter: