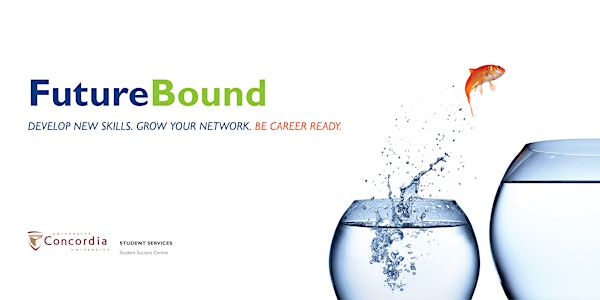 GETTING YOUR EXPERTISE USED, PART 1: THE PHASES OF PROJECT MANAGEMENT (L&C)
VIDEO CONFERENCE SESSION
By Student Success Centre, FutureBound Program
Date and time
Fri, Jan 27, 2023 7:00 AM - 9:00 AM PST
About this event
GETTING YOUR EXPERTISE USED, PART 1: THE PHASES OF PROJECT MANAGEMENT
LEADERSHIP & COLLABORATION
ZOOM Video Conference
Offered in collaboration with the Concordia Institute of Aerospace Design and Innovation (CIADI)
Workshop Description:
Most of us will be hired for our expertise and will be expected to influence outcomes in our organizations – even if we aren't the boss. How do we use our expertise and influence teams, systems, and organizations, when the only leverage we have is our good ideas? In this session, you will learn about and practice the phases of effective project management. By defining the role of the project manager and learning the phases of project management, you will be well-prepared to say "yes" to new projects with the confidence that your expertise will be well put to use.
Facilitator: Megan Webster, B.A.H., B.Ed, M.A., and Ph.D
Megan is an instructional coach, a teacher educator, and professional development (PD) consultant. In partnership with scholars at Vanderbilt University and the University of Washington, Megan supported two major urban school districts in the U.S. who aimed to radically improve instruction in their districts. Megan now coaches consultants, principals, and educational leaders in school boards across Quebec. In recognition for her work as a teacher, she was awarded the Prime Minister's Teaching Award. Megan brings great energy, humor, passion, and rigor to the work before her; participants leave sessions with her empowered and ready for action.
Please note that FutureBound events and workshops are open to all currently registered undergraduate students and recent alumni.
For more FutureBound events and activities, click here
About the organizer
Prepared for Today, Ready for Tomorrow
The Student Success Centre is a welcoming support network of resources and opportunities to engage and empower you as a student to realize your individual, academic and long-term goals – bridging academic experience with personal and professional development.
FutureBound
Develop new skills. Grow your network. Be career ready.
The Student Success Centre's new skill development program for undergraduate students.