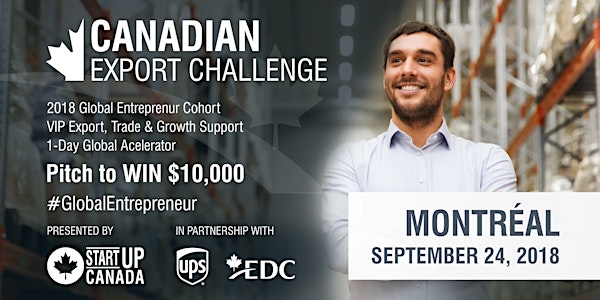 Global Accelerator and Pitch Competition Tour - Montréal
When and where
Location
Club Saint-James de Montréal 1145 avenue Union Montréal, QC H3B 3C2 Canada
Refund Policy
Contact the organizer to request a refund.
Description
8:30 AM REGISTRATION AND NETWORKING & FIRST PITCH ROUND
9:15 AM WELCOMING CEREMONIES AND COHORT INDUCTION
Sergio Escobar, Global Ambassador, Emcee

Victoria Lennox, CEO, Startup Canada
9:30 AM KEYNOTE
Yona Shtern, CEO, ParkWhiz
9:45 AM GLOBAL EXPANSION ACCELERATOR
Today, entrepreneurs are building global businesses from the onset, leveraging the global marketplace for foreign investment, access to talent, new market expansion, and leveraging collaborative partnerships to innovate and grow.
Join some of Canada's leading global entrepreneurs for the Global Expansion Accelerator session to learn how they conquered new markets, attracted foreign investment, recruited top talent, forged new partnerships. Leapfrog their business with lessons-learned and practical advice to help you to expand your business to new markets.
Moderator: Paul Gaspar, Director of Small Business, UPS Canada
Graham Mann, COO, Lean Systems

Soula Chronopoulos, President, Ellicom

Justin Hartzman, CEO, Needls

Yona Shtern, CEO, ParkWhiz

Sophie Boulanger, Founder & CEO, Bon Look
10:45 AM HEALTH BREAK AND GLOBAL CONNECT LOUNGE
Get your passport stamped!
11:00 AM WORKSHOP: TAPPING INTO INTERNATIONAL MARKETS IN A GROWING DIGITAL ECONOMY
The rapidly growing middle-class consumers in emerging economies includes 500 million people spending $20 trillion dollars a year. These new spenders offer a great opportunity for Canadian businesses to gain advantages from consumers that are looking for quality services and products that Canadian businesses can provide. Learn more about tapping into these international markets and emerging middle-classes in a growing digital economy.
Paul Gaspar, Director of Small Business, UPS Canada
11:45 AM ADJOURN FOR LUNCH
Get your passport stamped!
12.15 PM 30 SEMI-FINALISTS ANNOUNCEMENT
Andrea Knapp, Pitch Manager, Startup Canada
12:20 PM WORKSHOP: PROTECTING YOUR BOTTOM LINE: HOW TO MINIMIZE FINANCIAL RISK AND MAKE SURE YOU GET PAID
This session will help you understand what's needed to minimize your business' exposure to financial risk and how to stay on top of the factors that affect your bottom line.
You'll learn how to:
· create a financial plan
· manage cash flow
· negotiate payment options
· set up contracts to protect yourself in situations of non-payment
· find the right tools and processes to help you reduce financial risks internationally
Mélanie Carter, Knowledge Partnership Lead, Export Development Canada

Scott Ferris, Director of Business Development, Forum for International Trade Training
1:05 PM LEVERAGING CANADA TO SCALE and OWNING THE PODIUM
This panel showcases local, regional and national support organizations that entrepreneurs can leverage to scale globally, providing cohort entrepreneurs with insights on how to leverage Canada to succeed.
Moderator: Moderator: Victoria Lennox, CEO, Startup Canada
Paul Gaspar, Director of Small Business, UPS Canada

Justine Hendricks, Vice President, Working Capital Solutions, Export Development Canada

Caroline Lefebvre, Agente de Developpement des Affaires et des Partenariats, Canadian Intellectual Property Office / Office de la propriété intellectuelle du Canada
Marie-Eve Lefebvre-Lavoie, Program Advisor, Innovative Solutions Canada

William Polushin, Senior Business Advisor, BDC Advisory Services

Gisleine Silveria, International Partnerships, District 3 Innovation Centre - Concordia University
1:50 PM 6 FINALISTS ANNOUNCEMENT
Andrea Knapp, Pitch Manager, Startup Canada
1:55 PM WORKSHOP: TRADE COMMISSIONER SERVICE
Part of Foreign Affairs, Trade, and Development Canada, the Canadian Trade Commissioner Service (TCS) is a network of more than 1,000 trade professionals working in Canadian embassies, high commissions, and consulates located in 161 cities around the world and with offices across Canada. Learn how you can leverage TSC for market intelligence, soft landing, and client acquisition support, its network of Canadian Trade Accelerators, its CanExport Program, the Accelerated Growth Service, as well as Business Women in Trade.
Etienne Lapalme, Trade Commissioner, Global Affairs Canada
2:25 PM CANADIAN EXPORT CHALLENGE PITCH COMPETITION
2:55 PM CLOSING REMARKS WINNER ANNOUNCEMENT
Sergio Escobar, Global Ambassador, Emcee

Andrea Knapp, Pitch Manager, Startup Canada
3:15 PM GRADUATION