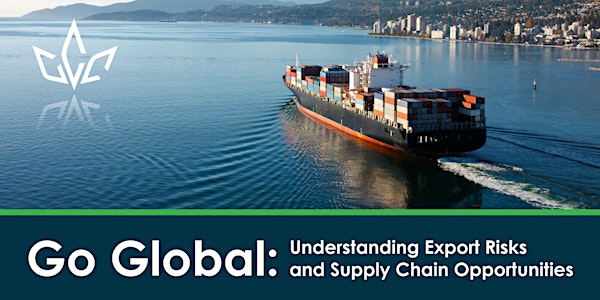 Go Global: Understanding Export Risks and Supply Chain Opportunities
Ensuring compliance is essential in protecting supply chains and minimizing financial risk.
About this event
(Français suit)
We are collaborating with the Trade Commissioner Service (TCS), Export Development Canada (EDC), the Forum for International Trade Training (FITT) and Livingston International to offer you insight on:
Export risks: before the pandemic versus now
Supply chain disruptions: what is causing them and what we can do to adapt
Financial barriers: identify and overcome them
Exporter knowledge gaps: understand your market and leverage resources
Drafting contracts: the correct use of Incoterms®
Rules of trade: understand your compliance obligations
Export portfolio diversification: make Free Trade Agreements (FTAs) work for you
Contact us: info@chamber.ca OR 613.238.4000
--
Nous collaborons avec le Service des délégués commerciaux (SDC), Exportation et développement Canada (EDC), le Forum pour la formation en commerce international (FITT) et Livingston International pour vous offrir des conseils sur :
Les risques à l'exportation : avant la pandémie et maintenant;
Les perturbations de la chaîne d'approvisionnement : quelles sont les causes et ce que nous pouvons faire pour nous adapter;
Les obstacles financiers : les identifier et les surmonter;
Les lacunes en matière de connaissances des exportateurs : comprenez votre marché et tirez le maximum de vos ressources;
La rédaction de contrats : l'utilisation correcte des Incoterms®;
Les règles du commerce : comprenez vos obligations de conformité;
La diversification du portefeuille d'exportation : faites travailler les accords de libre-échange (ALE) pour vous.
Contactez-nous : info@chamber.ca OU 613.238.4000
--
Event Speakers / Conférenciers d'événements

Matthew Abels is an Account Manager at Export Development Canada (EDC), supporting Canadian companies from a variety of sectors as they grow internationally. EDC is Canada's export credit agency with the mandate of helping Canadian companies increase their global reach with risk management, financing, and knowledge solutions. Matthew holds a Bachelor of International Business and is a Certified International Trade Professional. Prior to joining EDC, Matthew worked in personal banking at TD Canada Trust.
--
Matthew Abels est directeur de comptes à Exportation et développement Canada (EDC), soutenant les entreprises canadiennes de divers secteurs dans leur croissance internationale. EDC est l'agence de crédit à l'exportation du Canada dont le mandat est d'aider les entreprises canadiennes à accroître leur portée mondiale grâce à des solutions de gestion des risques, de financement et de connaissances. Matthew est titulaire d'un baccalauréat en commerce international et porte le titre de professionnel agréé du commerce international. Avant de se joindre à EDC, Matthew a travaillé dans les services bancaires personnels à TD Canada Trust.
---

Justin Elavathil is the Deputy Director of the FTA promotion team in the Trade Commissioner Services (TCS) Engagement Division. His team conducts FTA training and capacity building activities to trade commissioners around the world, implements FTA promotion strategies and develops tools that help Canadian exporters take advantage of FTAs. Before this, he worked in the Regional Office Pacific supporting cleantech remediation clients. Prior to joining Global Affairs Canada, Justin was a Program Manager of Trade, Investment, and Innovation at the Asia Pacific Foundation of Canada. He has lived over five years in Japan and has advanced fluency in Japanese. Justin holds a Master of Arts degree from the University of British Columbia in Asia Pacific Policy Studies.
--
Justin Elavathil est le directeur adjoint de l'équipe de promotion des ALE au sein de la Direction de la mobilisation du Service des délégués commerciaux (SDC). Son équipe mène des activités de formation sur les ALE et de renforcement des capacités auprès des délégués commerciaux du monde entier, met en œuvre des stratégies de promotion des ALE et développe des outils qui aident les exportateurs canadiens à tirer parti des ALE. Avant de se joindre à Affaires mondiales Canada, Justin était gestionnaire de programme du commerce, de l'investissement et de l'innovation au sein de la Fondation Asie-Pacifique du Canada. Il a vécu plus de cinq ans au Japon et maîtrise parfaitement le japonais. Justin est titulaire d'une maîtrise ès arts de l'Université de la Colombie-Britannique en études politiques en Asie-Pacifique.
---

Lora Rigutto is an international business development "Coach".  She has a passion for international trade and many years of experience guiding businesses through the complexities of global business expansion, including more than a decade as Trade Advisor with ProChile - the Trade Commission of Chile in Toronto. As a Certified International Trade Professional, CITP®, and an ICC certified Incoterms® 2020 Trainer for Canada, she brings expertise in the application of the terms of trade for the sale of goods into international markets. She is an adjunct professor teaching a variety of international business management courses and a proud member of the Organization of Women in International Trade – Toronto (OWIT). She recently joined the Forum for International Trade Training team as Loyalty & Engagement Manager.
--
Lora Rigutto est une "Coach" en développement des affaires internationales. Elle a une passion pour le commerce international et de nombreuses années d'expérience à guider les entreprises à travers les complexités de l'expansion commerciale mondiale, y compris plus d'une décennie en tant que conseillère commerciale avec ProChile - la Commission commerciale du Chili à Toronto. En tant que professionnelle certifiée en commerce international, CITP® et formatrice certifiée ICC Incoterms® 2020 pour le Canada, elle apporte son expertise dans l'application des termes de l'échange pour la vente de marchandises sur les marchés internationaux. Elle est professeure auxiliaire enseignant une variété de cours de gestion des affaires internationales et fière membre de l'Organisation des femmes en commerce international - Toronto (OWIT). Elle a récemment rejoint l'équipe du Forum pour la formation en commerce international (FITT) en tant que responsable de la fidélisation et de l'engagement.
---

As the Director of Consulting for the Eastern Region, Michelle leads a team of Consultants that help importers and exporters minimize their exposure to customs risks, while simplifying how to benefit from a myriad of trade complexities.
Michelle's over 25 years of experience in the trade industry has rendered her a subject matter expert in the Canadian customs regulatory framework that impacts importers, carriers, exporters and other trade chain partners. She has led and implemented business strategies with free trade agreements, valuation, import tariffs, trusted trader programs, cross border security initiatives, eManifest and eCommerce.
--
En tant que Directrice des services-conseils pour la région de l'Est, Michelle dirige une équipe de consultants qui aident les importateurs et les exportateurs à minimiser leur exposition aux risques douaniers, tout en simplifiant la façon de bénéficier d'une myriade de complexités commerciales.
Les plus de 25 ans d'expérience de Michelle dans l'industrie du commerce ont fait d'elle une experte en la matière du cadre réglementaire des douanes canadiennes qui a une incidence sur les importateurs, les transporteurs, les exportateurs et les autres partenaires de la chaîne commerciale. Elle a dirigé et mis en œuvre des stratégies commerciales avec des accords de libre-échange, des évaluations, des tarifs d'importation, des programmes de commerçants de confiance, des initiatives de sécurité transfrontalières, eManfiest et eCommerce.
---
Event Host / Hôte d'événement

Organizer of Go Global: Understanding Export Risks and Supply Chain Opportunities
Since 1925, the Canadian Chamber of Commerce has connected businesses of all sizes, from all sectors and from all regions of the country to advocate for public policies that will foster a strong, competitive economic environment that benefits businesses, communities and families across Canada.
With a network of over 450 chambers of commerce and boards of trade, representing 200,000 businesses of all sizes in all sectors of the economy and in all regions, we are the largest business association in Canada, and the country's most influential. The primary and vital connection between business and the federal government, our views are sought after and respected by government, business leaders and the media thanks to our well-researched reports, analyses, position papers and policy resolutions that reflect a broad business perspective.