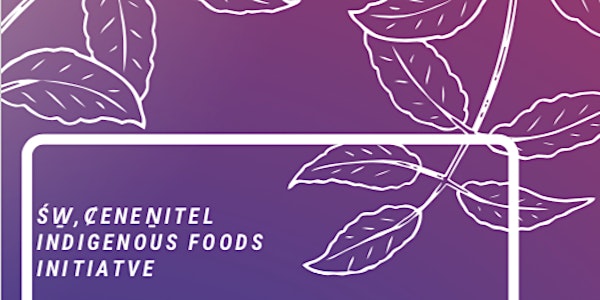 Grants 101: ŚW̱,ȻENEṈITEL Discusses The Process - A Three Part Series
A three part webinar (Jan 24, 25, & 26) tackling the why, what, and how of 'grants' in the era of "reconciliation"...
About this event
NEW DATES BELOW! Join ŚW̱,ȻENEṈITEL Initiative - a Collective working together in service to our local Indigenous Foods Systems - on January 24, 25, 26 for our three part series of "Grants 101"!
Monday, January 24, 6-7:30 pm -
Grants 101: Part One "A webinar on colonialism and its impacts, money, and land occupation."
Tuesday, January 25, 3-4:30 pm -
Grants 101: Part Two "A webinar on so-called 'Decolonization,' privilege, and accountability."
Wednesday, January 26, 6-7:30 pm -
Grants 101: Part Three "A webinar on accessing grants, how to apply, and more."
This series will discuss a range of topics related to how grant frameworks operate within frameworks of capitalism, colonialism, and racism. We will also discuss the false narratives of Indigenous 'leadership', decolonization, and accountability. The series will end on how to apply for grants from the Initiative and the significance of working for a future outside of money.
We believe in free access to education and sharing experiences, however, it is incredibly important to direct your funds to people and land defence. We will post their emails below before the series begins.
Note: Our Winter 2022 Grant Period is open!
Applicants must:
❏ Currently reside or work within the CRD (for grant distribution*)
Due to the limitations of the administrative partners of the ŚW̱,ȻENEṈITEL Initiative, funds need to be disbursed to those with an address in the colonial borders of the CRD. Please contact us if you have questions or need clarification.
Applicants must meet one or more of the following criteria:
❏ Ancestral to one or more of the 4 ancestral territories ŚW̱,ȻENEṈITEL serves;
❏ Clear connection to any of the 4 ancestral territories served by ŚW̱,ȻENEṈITEL (ie. relationship to land, families, communities, etc); and/or
❏ Indigenous Person(s)* living or working within the CRD, willing to follow local protocols of the lands in which they are on.
*We recognize that there are Indigenous peoples' from across the world living in these territories and that we can all be working together to uplift the autonomy and sovereignty of the lands that we are on today. We encourage Black, African, and Afro-Indigenous community members to apply and self-identify. It is important to the Initiative to actively make space outside of white supremacy and canadian definitions of Indigenous identities.
To learn more about the grants and how to apply, visit our website.
Follow us on Facebook and Instagram for updates.
*The event had to be changed because one of our team members got COVID-19. Thanks for your understanding.