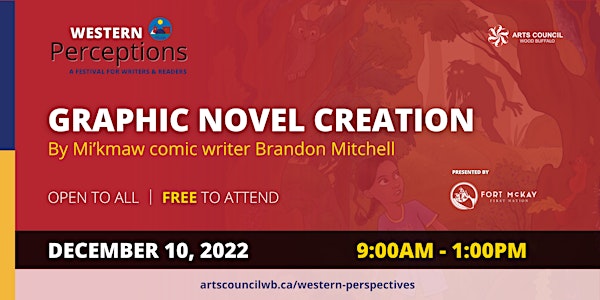 Graphic Novel Creation Workshop with Brandon Mitchell
Join Brandon Mitchell for a graphic novel creation workshop!
When and where
Location
Keyano Theatre & Arts Centre - AC 129 8115 Franklin Avenue Fort McMurray, AB T9H 2H7 Canada
About this event
ABOUT THE WORKSHOP
This workshop is open to the Wood Buffalo region for those who would like to explore and work with graphic novel design. Mi'kmaw Comic Writer Brandon Mitchell will lead the workshop from concept to completion. All materials will be provided.
ABOUT THE FACILITATOR
Brandon Mitchell is a Mi'gmaw from Listuguj, Quebec. He is a writer, illustrator and graphic designer with over 15 years of experience in the field. After calling Ottawa home for 10 years, Brandon returned to the East Coast, currently residing in Fredericton, New Brunswick. His notable accomplishments include the creation of "Sacred Circles," a graphic novel that put a modern twist on a local legend. Most recently, Brandon worked on an international graphic novel project with the University of Alabama title "Jean-Paul's Daring Adventure." His work also includes The Healthy Aboriginal Network's story "Lost Innocence", of a brother and sister's residential school experience in the 1930s, a fictional story based on documented real-life experiences of survivors.
EVENT DETAILS
Date: December 10, 2022
Time: 9:00 AM - 1:00 PM
Location: Keyano Theatre & Arts Centre - AC129
Admission Fees
ABOUT THE WESTERN PERCEPTIONS WRITERS CONFERENCE
The event, "Western Perceptions" brings best-selling Indigenous and non-Indigenous authors to the community to share literary perspectives with the region. The event is taking place December 8-10, 2022 at several locations throughout the Wood Buffalo region.
Among the invited writers are Mi'kmaw Comic Writer Brandon Mitchell and award-winning Playwright, Writer and Producer Drew Hayden Taylor.
The three-day festival is jointly organized by an Indigenous and a non-Indigenous artistic director. Frederick McDonald, a member of the Fort McKay First Nation, is well-respected throughout Alberta as an Indigenous artist. Therese Greenwood is an award-winning author of fiction and non-fiction who has worked as a reporter, editor and broadcaster and has appeared in publications ranging from the Globe And Mail to Queen's Quarterly to Cottage Life.
QUESTIONS AND MORE INFORMATION
For questions or more information, please contact Programs Coordinator, Hanna Fridhed at hanna@artscouncilwb.ca.