Greasy Spoon Diner Vol. 25 Featuring Chef Alison Ramage in participation wi...
Description
We are honoured to not only showcase the inspired work of exceptionally talented Chef Alison Ramage as our featured Chef for Greasy Spoon Diner Vol.25 at Save on Meats on March 21st, 2017.
...
we've also been selected as 1 of almost 40 restaurants across Canada to participate in an international feast and art of eating well event called Good France, in celebration of French Gastronomy.
About Chef Alison Ramage:
Alison Ramage is a food entertainer as the chef owner of Design to Dine. Bridging the gap between the personal chef and the caterer, Alison draws inspiration from her clients' lifestyles and tailors custom menus and service for their events. San Pellegrino Young Chef recognized Alison as top 10 chefs under 30 in Canada in 2016.
Alison aspires to connect and inspire people with likeminded ambitions through food to drive world-class change within Vancouver. Alison feels at home in unfamiliar situations sparking conversations and seeking opportunity to learn about different cultures and traditions broadening her perspectives in food and hospitality beyond her backyard.
And of course, what's french cuisine without french wine -
Everything Wine
has genererously donated the wine pairings for the evening: 1st course: La Lisse Soie d'Ivoire Chenin Blanc (France), 2nd course: Gustav Adolf Schmitt Riesling Spatlese (Germany).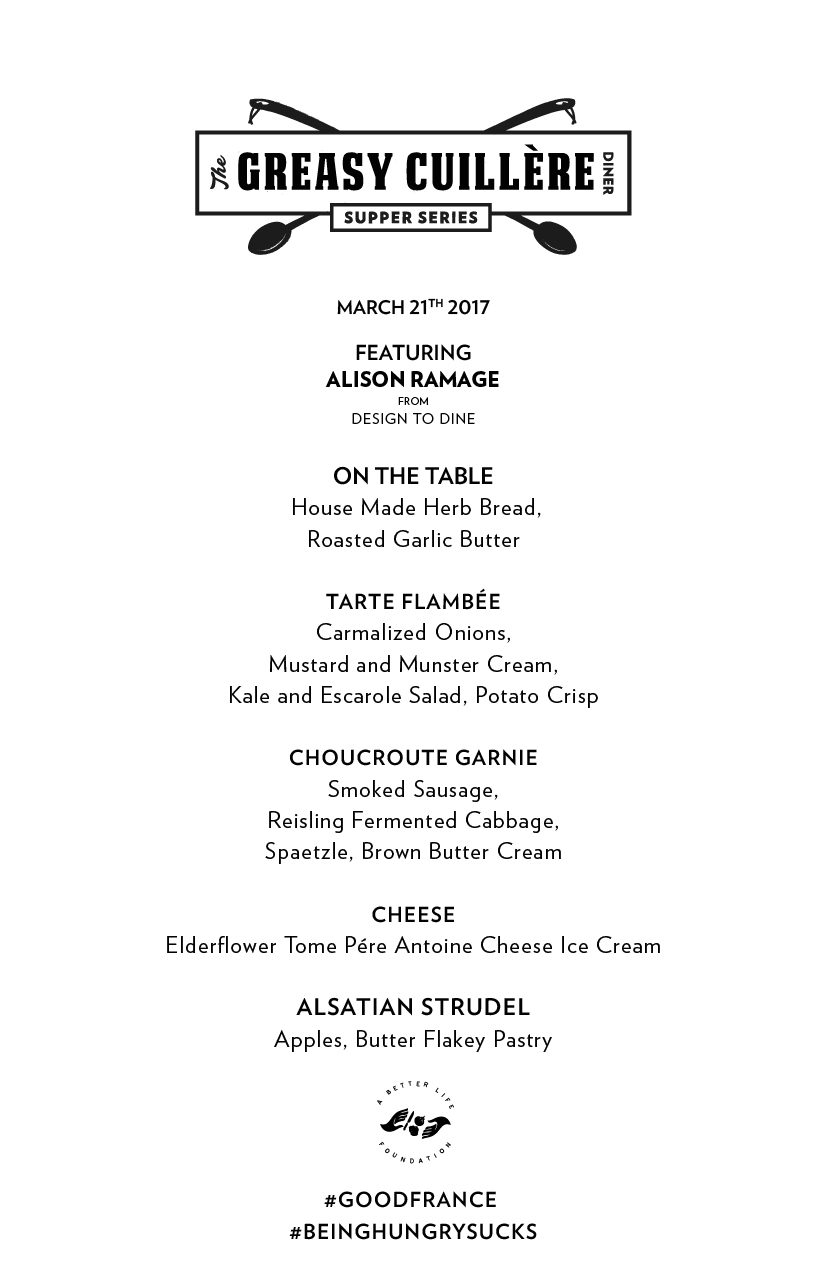 About the Good France event:
For the third consecutive year, over 2000 restaurants in 150 countries will participate in the Good France event to celebrate French gastronomy by preparing a special menu one night only. This event, orchestrated by the French Ministry of Foreign Affairs and International Development and chef Alain Ducasse, is inspired by Auguste Escoffier, who launched the "Dîners d'Épicure" (Epicurean Dinners) initiative in 1912: the same menu, on the same day, in several world cities, for as many guests as possible.
The "gastronomic meal of the French" is now inscribed on UNESCO's list of Intangible Cultural Heritage of Humanity. With French cuisine, the food is the epicenter but still not without the whole experience. All senses should be looked after – smell, sound, sight and flavour. Participating restaurants have been selected after designing their menu based on the following sequence: aperitif and canapés, starter, main course(s), cheese, dessert(s), French wines and champagnes. Menus will be available on the participating restaurant's websites as well as on the Consulate's website. The price is at the restaurant's discretion and each participant will commit to donating 5% of the proceeds to a local NGO promoting health and the environment.
"Through this dining experience with Good France, there is the opportunity to create conversation for a cultural shift towards positive human connection on global level within communities"
What the Greasy Spoon Diner fundraising event is all about:

The Greasy Spoon Diner is truly a one of a kind charity event.
The best chefs in the world volunteer their time to cook with the legendary Save On Meats team to create an elegant set menu, dining experience inspired by their own creative interoperation of diner food.
We have two seatings at 5:30pm and 8pm.
Each service is paired with cocktails made by award-winning bartenders, as well as craft beer and wine. The best part: it helps feed and employ members of our community, and it's an opportunity to re-connect with friends old and new, with a purpose.
Enjoy an exceptional meal with people who share the same values, and hear about the work being done to service those less fortunate.
The Greasy Spoon is the easiest way to make a big impact while having a great time, every time.
Funds raised by the Greasy Spoon Diner series support A Better Life Foundation (ABLF), which aims to empower those who are struggling with addictions and mental illness. By providing food security, education and employment training ABLF supports individuals, while strengthening the quality of community life in the Downtown Eastside.

A Better Life Foundation also supports the ongoing Being Hungry Sucks campaign.