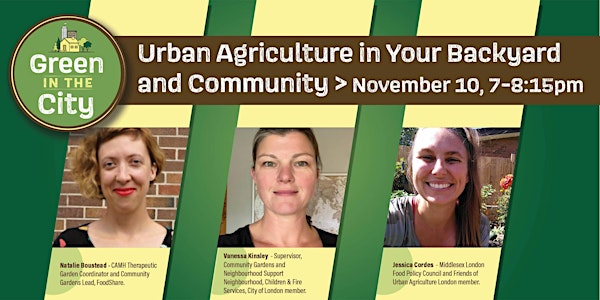 Green in the City: Urban Agriculture in your Backyard and Community
Learn how you can become an urban AG-vocate by getting involved in urban agriculture in your community and in your home!
About this event
Green in the City is an annual environmental seminar series that explores key climate issues through the lenses of local, municipal, and regional speakers. Learn about lifestyle and behavioural changes that support the planet, London's environment, and you! See all upcoming events for the Green in the City series here.
Due to COVID-19, we will be hosting all Green in the City sessions online via Zoom. These sessions aim to be interactive for all attendees and will include a breakout room discussion and a Q&A period with all speakers.
Please register for this session through Eventbrite. The Zoom link will be sent to all attendees before the session via email.
-----------------------------------------------------------------------
Urban Agriculture in Your Backyard and Community | November 10th, 7-8:15pm
There are many ways to participate in urban agriculture in the city, including buying food from urban farms, having a garden plot in a community garden, having garden beds in your own backyard, growing fruit trees, or growing tomatoes and herbs in containers on your porch. Supporting urban agriculture means you are contributing to the local economy, creating healthy soil, a thriving community, and are connected to your food. In this session we will hear from three different perspectives about how the urban agriculture movement is growing, and how you can become a part of it. Featuring:
-----------------------------------------------------------------------
About the Speakers
Natalie Boustead
Natalie brings to FoodShare her experience as a teacher, urban farmer, community animator and life coach. Since graduating from university, Natalie has found herself in all sorts of roles that fed her various passions, including being senior coordinator for PACT Grow-to-Learn, a schoolyard gardening and food justice organization here in Toronto. Natalie has one foot in the food justice movement, and one foot in the arts community, and looks for ways to combine these worlds wherever she can. She believes in the transformative power of play in both children and adults, and to that end, she spends her free time indulging in micro-entrepreneurial ventures that promote joy and playfulness, such as mini-donut making, vintage clothing upcycling, smoothie stands, organizing house concerts and throwing themed dance parties.
Vanessa Kinsley
Vanessa Kinsley has worked for the City of London for 12 years, with positions in Parks Planning, Environmental Programs, and in her current role as Supervisor, Community Gardens and Neighbourhood Support with Neighbourhood Children and Fire Services. She has a background in Ecology and is passionate about connecting people to each other and their environment. When Vanessa's not working she enjoys gardening and exploring London's natural areas with her husband and two boys.
Jessica Cordes
Jessica is passionate about growing food at home and has been building her home garden for three seasons. She learned the basics from her Italian grandparents and got to work transforming her lawn into productive gardens. As an active community member who cares about local food Jessica volunteers with Friends of Urban Agriculture London and The Middlesex London Food Policy Council. She believes that a sustainable food system is equitable, works with the environment, and builds the local economy.
-----------------------------------------------------------------------
This is a FREE community event made possible by: