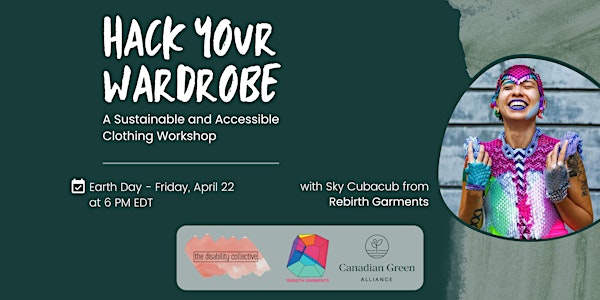 Hack Your Wardrobe: A Sustainable and Accessible Clothing Workshop
Join us on Earth Day to learn from Sky Cubacub of Rebirth Garments about zero-waste no sew fashion and adaptive clothing.
Refund Policy
Contact the organizer to request a refund.
Eventbrite's fee is nonrefundable.
About this event
Photo of Sky by Grace Duval
[Image Description: The Hack Your Wardrobe graphic, featuring a dark forest green background with a light green watercolour paint swatch on the right. At the top of the graphic are the words "Hack Your Wardrobe" in a white handwritten font. All other font is white and in sans serif. Directly underneath the title are the words "A Sustainable and Accessible Clothing Workshop". Below that is a white line, and below that are the words "Earth Day - Friday, April 22 at 6 PM EDT". To the right are the words "with Sky Cubacub from Rebirth Garments". To the right of this is a circular image of Sky, wearing a bright, multi-coloured outfit and smiling. At the bottom of the image are The Disability Collective, Rebirth Garments, and Canadian Green Alliance logos overtop a transparent white box]
--
The Disability Collective and Canadian Green Alliance are thrilled to host Hack Your Wardrobe: A Sustainable and Accessible Clothing Workshop, led by Sky Cubacub of Rebirth Garments! Join us on Earth Day, Friday, April 22nd, at 6 PM EDT to take part in this interactive event.
How do you hack your wardrobe to make it fully celebrate the intersection of all of your identities? We will explore the idea of Radical Visibility, a Disabled Queer dress reform movement based on highlighting the parts of us that society typically shuns. Sky will be doing interactive draping demos using a no sew method of designing in our own closets to promote creativity and imagination, breaking us out of the boxes that the fashion industry has told us to be in.
--
Please help us increase accessibility to this workshop by participating in our sliding scale pricing options. We encourage you to truly consider what you are able to pay for this event. By choosing to pay more, you will be supporting reduced prices for others.
Please note: We highly encourage folks who identify as Black, Indigenous, People of Colour, 2LGBTQIA+, and/or Disabled to choose their price point regardless of financial status.
--
To find out more information, visit our website thedisabilitycollective.com. For any assistance with obtaining tickets, please do not hesitate to reach out to us at team@thedisabilitycollective.com.
Captions will be provided at this event.
--
We acknowledge that we are working on the traditional territories of the Haudenosaunee, the Anishinaabe, the Huron-Wendat, the Mississaugas of the Credit, and the Mississauga. We are grateful to have the privilege to live and work on this land.