Description
What is it?
hackABILITY will raise awareness about emerging technology opportunities in the area of assistive technology, as well as support collaboration between educational institutions and established businesses. hackABILITY is facilitating the rapid prototyping of devices that may be considered for further development and commercialization.
How does it work?
hackABILITY is bringing together teams to create solutions for defined assistive/adaptive needs in the community. hackABILITY teams consist of at least 4 people including a person with a disability or a caregiver, plus members with experience in design, coding, and engineering. Solutions will be assessed based on innovation, scalability and affordability criteria.
When is it?
We've tasked our teams with taking the 'dis' out of 'disability' and showcase how their assistive technologies can help change the lives of those living with physical, mental and sensory disabilities. On December 7, we invite you to join us at the University of Toronto Mississauga and watch our finalists present their solutions to our esteemed judges.
DATE: Thursday, December 7, 2017
TIME: 6:00PM - 8:30PM
ADDRESS: Blind Duck Pub, University of Toronto Mississauga, 3359 Mississauga Rd, Mississauga, ON L5L 1C6

FREE parking will be available at parking lots P4 and P8. Accessible parking is also available outside the Blind Duck Pub.
For information on parking at UTM, please refer to this map: https://www.utm.utoronto.ca/parking/sites/files/parking/public/shared/images/2016-2017%20Map.jp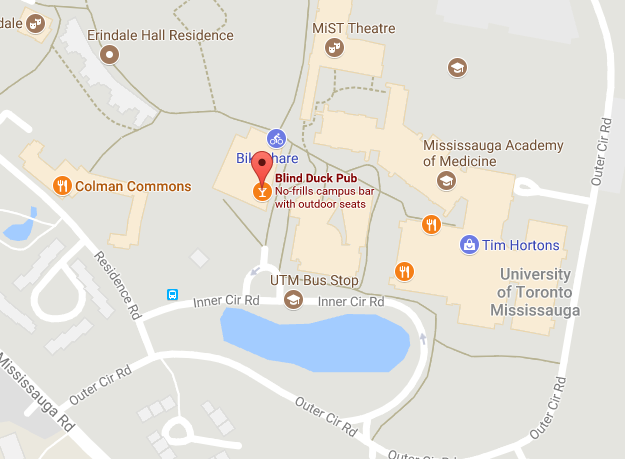 hackABILITY Schedule
6:00 pm – Registration, marketplace and networking
6:30 pm – Introductory speeches
7:15 pm – Final pitches
8:00pm – Judges deliberation
8:15 pm – Winners announced and networking until 8:30.
Contact info@hackability.ca if you have any questions.