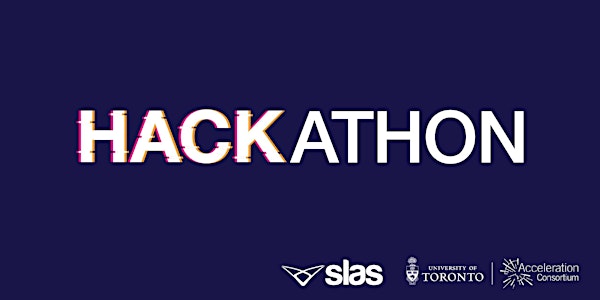 Hackathon
The Acceleration Consortium and SLAS are excited to co-host a FREE, virtual hackathon.
About this event
Do you want to learn more about scientific database management? Have ideas about how to store and analyze both computational and experimental results? Now is the time to set up your teams and get ready to crunch!
The Acceleration Consortium (AC) and the Society for Laboratory Automation and Screening (SLAS) are excited to co-host a FREE, virtual hackathon on October 22 – October 24, 2021.
The integration of machine learning and artificial intelligence (AI) into scientific research is transforming scientific inquiry. Such advances require well-designed databases suitable for scientists to store and analyze computational and experimental results from multiple experiments and users.
Your task
Teams (3-4 people) will work with a database management framework and choose their own datasets to prototype, build, and/or enhance tools to address the challenges that researchers face today. We welcome datasets and applications in all fields.
Where?
After registration, you will gain access to the AC Discord server with further information, including a forum for questions and discussions. All hackathon activities will take place virtually.
Who?
You are responsible for assembling a team of up to four (4) people, who you want to spend the weekend with (virtually or physically—your choice—but please respect COVID protocols wherever you are). Teams must have 3 or 4 people. If you want to join but don't have a full team, you can sign up with 1-2 people and we'll match you with others looking to complete their team! When you begin the registration process, you will have the option to sign up as a team or an individual.
We are limiting this first event to a maximum of 10 teams.
Registration closes Thursday, October 7, 2021. If registration is full or you've missed the deadline, please feel free to sign up for the waitlist. You can also participate as a mentor or judge.
What do I need?
A computer with a solid internet connection
Familiarity with SQL
Comfort with learning new python APIs
When?
You can participate from anywhere in the world, but please note that the event (and all event deadlines) will be based in the EST time zone:
Thursday, October 7: Registration closes.
Monday, October 11: Database tutorials released. You are not expected to begin your project right away, these recorded tutorials will provide a preview of what to anticipate.
Friday, October 22 – Sunday, October 24: Start hacking!
Sunday, October 24: Winners announced.
What's in it for the winners?
Cash prizes! (split evenly among team members)
1st place: $2,000
2nd place: $1,250
3rd place: $750
Plus, a podcast interview, bragging rights, and more...
What about everyone else?
All participants will receive hackathon swag compliments of SLAS and Acceleration Consortium. (If we told you everything, it wouldn't be as fun, now would it?) We will ask for your shipping address to mail it to you. If you're not interested, feel free to omit that information.
Questions?
Email us at hackathon@accelerationconsortium.ai
About the co-hosts
Based at the University of Toronto, the Acceleration Consortium is a global community of academia, government, industry and entrepreneurs dedicated to accelerating the discovery of new materials and molecules.

SLAS is an international professional society of academic, industry and government life sciences researchers coupled with the developers and providers of laboratory automation technology. SLAS advances scientific innovation by providing education, collaboration and professional development that unites scientists across disciplines and transforms research.