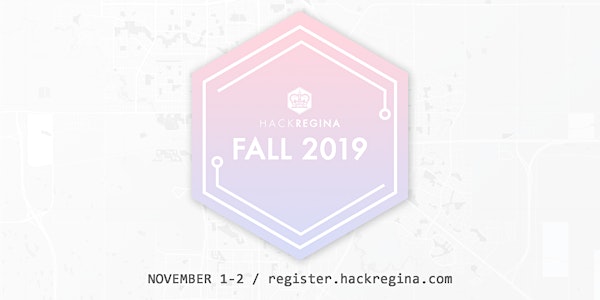 HackRegina Fall 2019 Hackathon
HackRegina is calling all developers, designers, and analysts to join us at our next hackathon.
When and where
Location
Innovation Place - The Terrace 10 Research Dr. Regina, SK S4S 7H9 Canada
About this event
On November 1st, HackRegina is calling all developers, designers, and analysts to join us at our next hackathon. We're bringing together participants from Regina and beyond to create technology solutions for specific challenges faced by organizations within their community. All experience levels are welcome as we hope to provide the opportunity to work with the best and brightest in Regina.
View problem statements and rules
SCHEDULE
Friday - Nov 1, 2019
04:30 | Doors open, check-in, supper served
05:00 | Introduction and overview
05:20 | Team registration
05:30 | Start hacking!
12:00 | Doors close, you can code just not here
Saturday - Nov 2, 2019
07:00 | Doors open, coffee and breakfast is served, more hacking
12:00 | Lunch
17:00 | Supper
17:30 | Submit your project
18:00 | Demo presentations
19:00 | Judging and winners announced
19:00 | Wrap-up and socializing
How to Enter
Register for the HackRegina Hackathon on this page.
Secure your spot with an Eventbrite ticket.
Learn about our community partner's problem statements.
Build! Create a new project. Shoot a demo video or prepare a live demo that demonstrates your project in action. Compose a written summary of your application and what it does. Consider reading through our starter kit.
Provide a way to access your project for judging and testing. Include a link to your repo hosting the source code and all deployment files and testing instructions needed for testing your project. (The Github or BitBucket code repository may be public or private. If the repository is private, share access with info@hackregina.com).
Submit your project before November 2nd, 2019 @ 5:30 pm CST and be sure to share the links to access to the repo and the deployment files.
FAQS
Q: Will the specific issues/problems to be worked on be announced ahead of time?
A: Yes, the problem statements from our participating organizations will be announced ahead of time - however, all solutions must be fully developed during the course of the event.
Q: Can more than one team work on the same problem?
A: Yes - there will be more teams than there are problem statements, and we know you're a creative bunch who could take these solutions in any number of directions!
Q: Do I need a team to register?
A: No, you don't need to be a part of a team to register, but you can easily link up with other participants on this site under the PARTICIPANTS tab. If you don't have a team going in, ensure that you arrive by 4:30PM on November 1st for team-forming and official team registration.
Q: What do I need to bring?
A: Here are some items you'll need to compete:
Your laptop
Mobile device, if creating a mobile app
Cables, charges and connectors for any of the above
Data sticks are not necessary but could be handy, in case of any Wi-Fi troubles
Q: What APIs can we use?
A: There are no mandatory APIs or data sets that must be used in your project, but you can find some helpful info in the #resources channel on queencityhack.slack.com. You can use APIs in your hacks or you can create your projects from scratch; here is a comprehensive API directory.
Q: How much is it to register?
A: Free!
Q: Will there be prizes?
A: Yes - we're offering more than $1000 in prizes.
Q: What happens to our projects after the hackathon?
A: This event is all about creating open source tech solutions for organizations in our nonprofit community. We want to make sure these organizations can actually make use of these solutions, so at the end of the hackathon, we ask that you give a copy to the organization as well as upload it to Github for them to download.
Q: What are you feeding us? What if I have a food restriction or allergy?
A: We will be providing meals and snacks throughout the event, self-serve style. If you have a food restriction or allergy, please reach out to David Crossman and we will accommodate you.
Q: Is the facility open all night or do we have to leave at certain hour and come back in the morning?
A: Innovation Place will be available until midnight and be opening back up at 7am. Since a 24-hour hackathon is a bit of a time crunch, but you are allowed to rest up or keep on coding throughout the night at home or wherever you find public wifi.