Here and Now, Discover Mississauga and More with our haiku walking tours and online workshops, the third activities. This is 2nd Haiku Walk
About this event
Here and Now, Discover Mississauga and More will be an eBook that we hope to create from two haiku walking tours and three online haiku workshops. One of 2022 MAC MicroGrant Winning Programs, everyone is welcome to join us no matter where you live.
This new project is aimed to build creative and resilient communities through haiku workshops; you can join one or all of activities, funded by Mississauga Arts Council's MicroGrant Program through the support of RAMA Gaming House – Charitable Gaming at City of Mississauga.
You will have the opportunities to discover various artists and get connected, enjoy the diversity, dynamics and beauty of Mississauga and Nature, and create your own artistic work and learn how to edit. Selected work will be published in the eBook: Here and Now, Discover Mississauga and More.
For the whole project, please check: https://www.surewaypress.com/haiku-walking-tours
Photos for our first activity on June 25, 2022: Haiku walking tour at River Wood Garden
This is the third activity:
July 23, 2022: haiku virtual tour at art gallery of Mississauga +workshop
time: 2:00pm-4:00pm
Due to COVID19, we change this as virtual tour. Thanks.
The zoom meeting link will be sent before the event a few day earlier.
Feel free to submit them for workshops or sharing.
Workshop leader: Anna Yin who has instructed 100 Poetry Alive workshops and authored five poetry collections. Anna was Mississauga's Inaugural Poet Laureate (2015-2017) and Ontario representative for the League of Canadian Poets (2013-2017). https://annapoetry.com
eBook Guest Editor: Hans Jongman. Hans has authored five books of Haibun, 3 book of haiku, was editor for an editor for Sweeping Leaves, an international haiku anthology (2000)
Thank our sponsors for making the project to take form! Enjoy and See you all soon!
The Mississauga Arts Council, The League of Canadian Poets, Triple J Canada Consulting Inc &
Kaideed International Education Service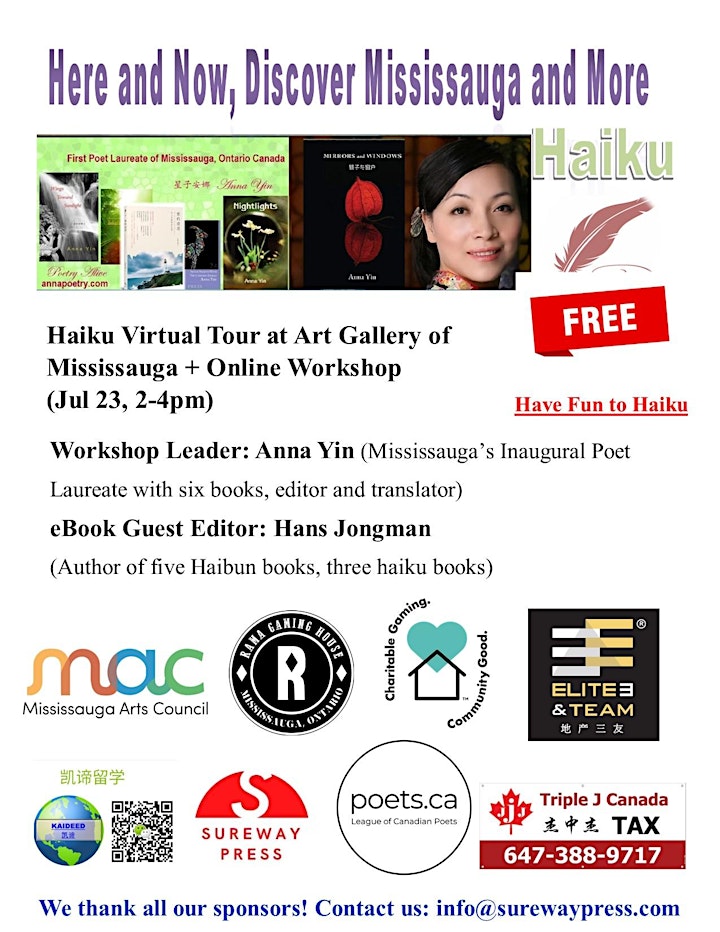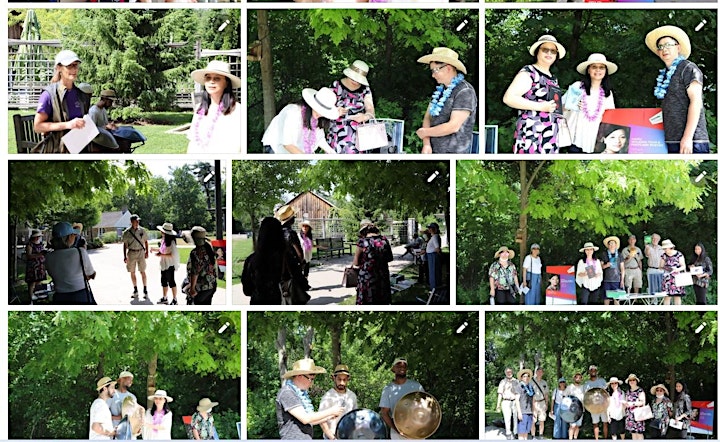 We had a great time for haiku walking tour. The participants enjoy their experience and each wrote nice work. We will continue our other activities, July 9 will be online haiku workshop, you all are welcome to join!