Sookrams Brewing Presents
About this event
🎥 🍺 Movies & Beer 🍺 🎥
Sookram's Brewing Presents Park Theatre Movie Night!
We're partnering with the Sookram's for our monthly movie night in 2022 and they're helping curate the movie list for the whole year! We are definitely excited about this.
Every movie night we will have a specially brewed Sookram's beer named after the movie you're going to see and each ticket will not only get you into the show but also your first pint of the Sookram's beer on tap that evening.
The first movie night we will be showing (drum roll) 🥁🥁🥁🥁🥁🥁
Hard Core Logo: Bruce Macdonald follows punk bank Hard Core Logo on a harrowing last-gasp reunion tour throughout Western Canada. As magnetic lead-singer Joe Dick holds the whole Magilla together through sheer force of will, all the tensions and pitfalls of life on the road come bubbling to the surface.
A truly classic independent piece of Canadian Cinema directed by Bruce MacDonald and starring Hugh Dillon and Callum Keith Rennie.
Hard Core Logo at Park Theatre February 22nd 2022
Doors at 7 pm. Movie at 8 pm.
Tickets are available at Park Theatre and Eventbrite.ca. Every admission includes a specially brewed 16oz pour from Sookram's Brewing.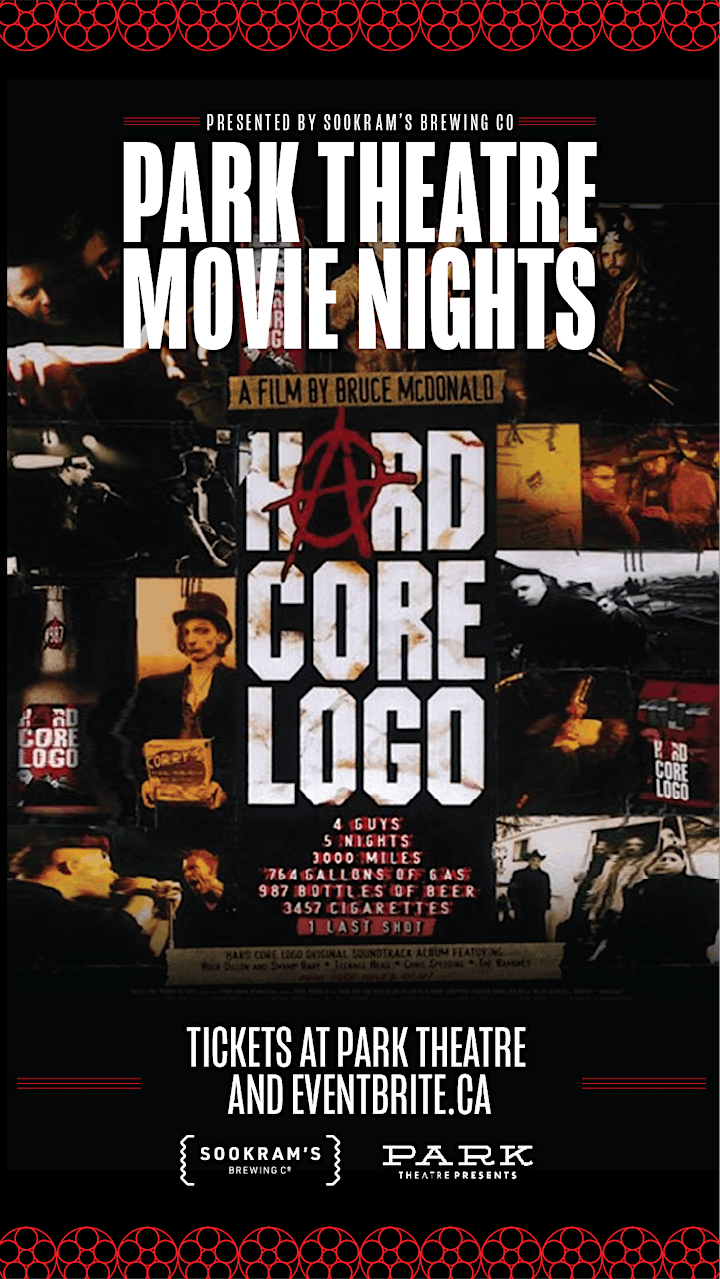 Organizer of Hard Core Logo
The Park Theatre, now in its fifteenth year of operations and has grown into one of Winnipeg's premier live event venues. With over 300 events a year spanning music, comedy, theatre, and film, the room has become home to an expansive community of artists.
In 2014 The Park Theatre was awarded "Venue of the Year" at the Western Canadian Music Award's, after being nominated for the same award in both 2012 and 2013.
The venue itself is a renovated movie theatre that opened in the fall of 1915. While many of Winnipeg's neighbourhood theatres have been demolished or "repurposed" into bowling alleys or retail stores. The Park managed to hold out for 73 years before fate caught up with it. After sitting vacant for nearly a decade it was revived into what is now one of Winnipeg's most popular live music venues.
With its high-quality sound, great atmosphere, two full-service bars, and premier live entertainment from local acts to international touring artists, it's no wonder that artists and audiences alike keep coming back.