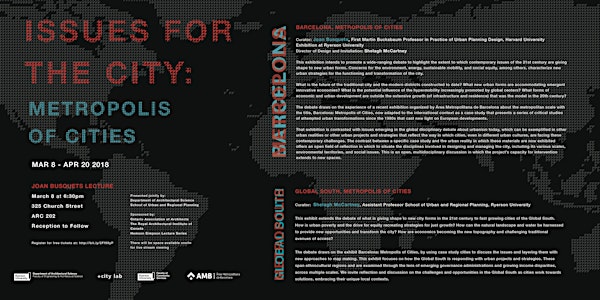 Hemson Simpson Lecture Series - Joan Busquets - Barcelona: Metropolis of Ci...
Location
Ryerson University
325 Church Street
Room ARC 202 (The Pit)
Toronto, ON M5B 2K3
Canada
Description
***********Please note that tickets are only required for the lecture. The Exhibit opening does not require a ticket and is open for everyone************
Jointly hosted by Ryerson's Department of Architectural Science and School of Urban and Regional Planning, this year's Hemson Simpson Lecture Series concludes with a lecture by Dr. Joan Busquets from Harvard University's Graduate School of Design/ Urban Planning and Design who will be speaking on the topic of Barcelona: Metropolis of Cities, with a reception to follow the lecture. The program also features an Exhibition on Barcelona, Metropolis of Cites and Global South, Metropolis of Cities curated by Dr. Joan Busquets and Dr. Shelagh McCartney respectively which will be held at the Paul H. Cocker Gallery from March 8th – April 20th, 2018.
Our Media Partner - AZURE Magazine - will also have issues of their magazine available at the door, so don't miss out!
For those who cannot attend, a live stream of the lecture will also be available using the following link: http://venus.rcc.ryerson.ca/wowza/content/users/rtaproductions/index.html
Note: Due to limited capacity in ARC 202 (The Pit), you may be asked to proceed to an overflow room (ARC 206) where the lecture may also be viewed. We recommend you reach the lecture hall at an appropriate time to secure a spot in The Pit before it reaches full capacity as seating will be on a first come, first serve basis.

About Dr. Joan Busquets:
Joan is an Architect, Urban Planner and Professor in Practice of Urban Planning and Design at the Graduate School of Design at Harvard U since 2002. He is the founder of LUB Barcelona and was the Head of Urban Planning for the Barcelona City Council in preparation for the 1992 Barcelona Olympics. He has worked on urban projects in Delft, Geneva, The Hague, Rotterdam, Toledo, Lisbon and Toulouse among others around the world including Singapore, Shanghai, Ningbo, and Sao Paulo. He was awarded the 2012 Paris Grand Prix Special de l'Urbanisme (France) and the 2011 Erasmus Prize (Netherlands). He was also elected Full Member of the Academie d' Architecture de France in 2016.