Description
Please join us for a screening of Her Last Project. This film tells the extraordinary story of Dr. Shelly Sarwal, a physician from Halifax, Nova Scotia. Diagnosed with Multiple System Atrophy (MSA), an incurable disease, Shelly chose to undergo the recently legalized Medical Assistance in Dying (MAID) procedure and become an organ donor. As the first person in Nova Scotia to undergo this complicated medical journey, she dedicated the short time she had left on this earth to educate health professionals and the general public about being in control of your death and creating a meaningful legacy through organ donation.

After the film, the Saskatchewan Health Authority Organ and Tissue Donation Program will be hosting a panel discussion with clinical experts in the area to talk about the film and it's impact.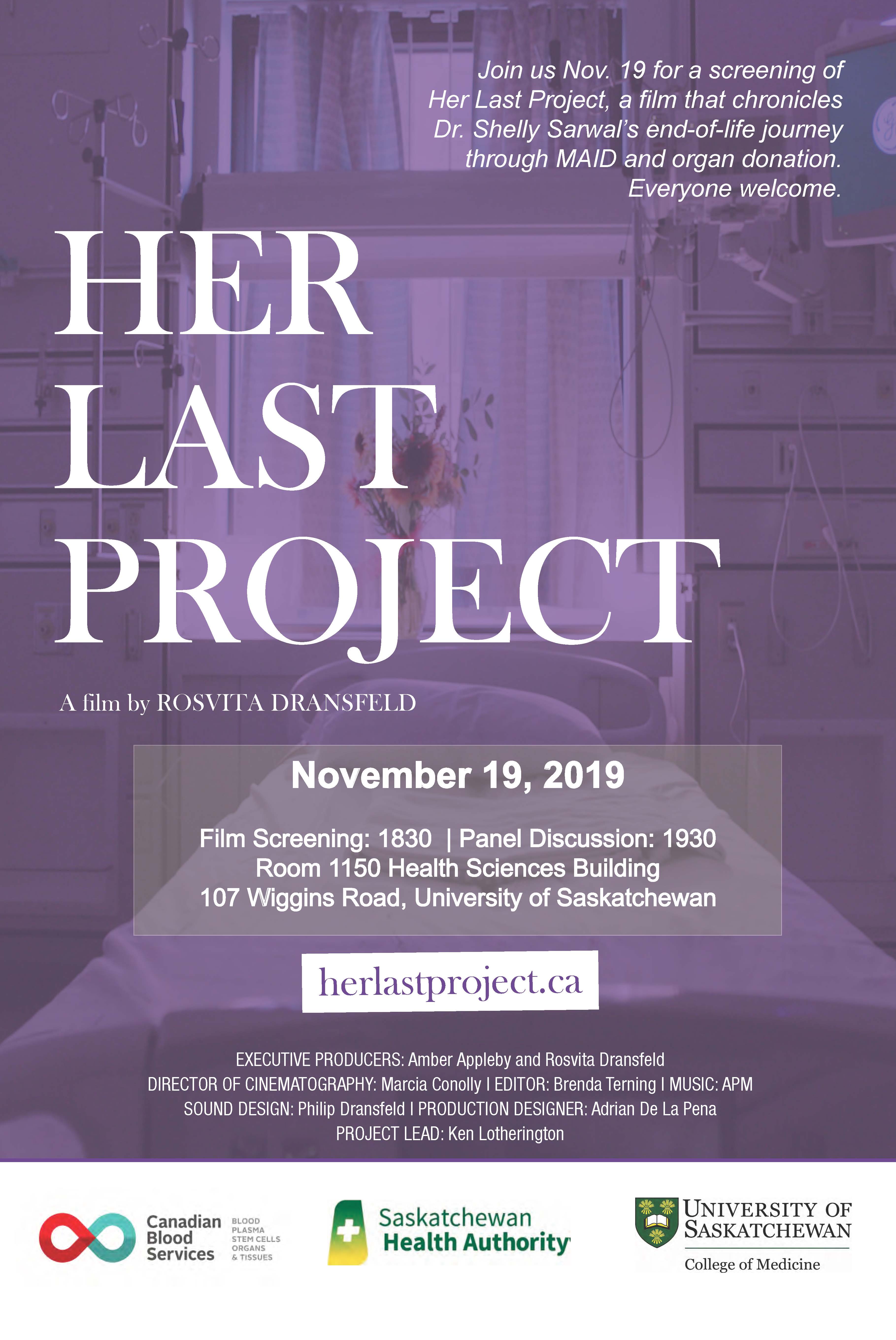 Organizer of Her Last Project
The Saskatchewan Health Authority has developed a Donation Program using a donor physician model that supports donors and their families in the decision-making process.  Donor physicians and Registered Nurse donor coordinators also provide leadership, expertise and peer education in the health system.
Working with other members of the health care team, donor coordinators and physicians help integrate organ and tissue donation into the delivery of high-quality, end-of-life care for potential donor patients and their families.
The program coordinates the donation of organs – heart, liver, lungs, pancreas and kidneys. Kidneys may stay in Saskatchewan for transplantation and other organs are allocated across the country to recipients on wait lists in other centers. 
The team also coordinates the donation of corneas and sclera from deceased donors for use in sight restoring corneal transplant surgery and vision saving surgeries. The SHA Donation Program manages the Eye Bank of Saskatchewan.