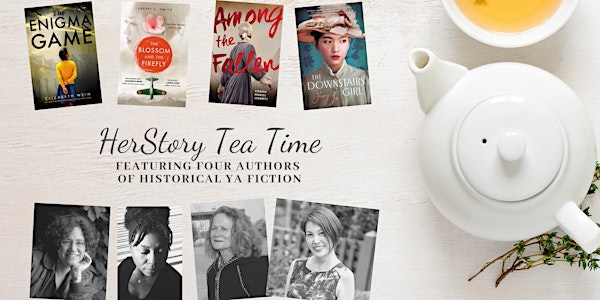 HerStory Tea Time
Join Penguin Teen Canada for a tea time full of HerStory as we chat with four amazing historical fiction authors!
About this event
Tea and books are the perfect combination so we're inviting you to a very special tea time: a celebration of HerStory with some of our favorite authors of historical YA fiction!
Elizabeth Wein (The Enigma Game), Sherri L. Smith (The Blossom and The Firefly), Virginia Frances Schwartz (Among the Fallen), and Stacey Lee (The Downstairs Girl) will grab their favorite cuppa and chat about all things historical fiction - the research, the writing process, and their inspirations.
Purchase their books from your local bookstore or favorite online retailer and get ready for a great conversation!
Is there a question you'd love to ask them? Email sdevotta@penguinrandomhouse.com with the subject line "HerStory Question" and we'll make sure to include it in our discussion!
ABOUT THE AUTHORS
Elizabeth Wein was born in New York and grew up abroad, and currently lives in Scotland with her husband and two children. She is an avid flier of small planes, and holds a PhD in Folklore from the University of Pennsylvania. Elizabeth is the author of Rose Under Fire, winner of the Schneider Family Book Award, and Code Name Verity, winner of the Edgar Award in the Young Adult category and a Printz Medal Honor Book.
Sherri L. Smith was born in Chicago, Illinois and spent most of her childhood reading books. She currently lives in Los Angeles, where she has worked in movies, animation, comic books and construction. Her fourth novel, Flygirl, an historical YA novel set during World War II, won the California Book Award Gold Medal, was a YALSA Best Book for Young Adults, and has received fourteen State Award nominations.
Virginia Frances Schwartz grew up in rural Ontario, Canada, but now lives in Queens, New York, where she taught writing in the public schools before devoting her career to her own writing. She is best known for her novels for young adults which have been ALA Best Books for YAs, and winners of multiple Canadian awards including the Geoffrey Bilson Award for Historical Fiction, the Ontario Silver Birch Fiction Award, the Manitoba Young Readers' Choice Award, and British Columbia Red Cedar Award. She teaches a creative writing course at UCLA Online.
Stacey Lee is a fourth-generation Chinese American. A Southern California native, she graduated from UCLA and got her law degree at UC Davis King Hall. Now she plays classical piano, wrangles children, and writes young adult fiction. Stacey lives outside San Francisco, California. She is also a founding member of We Need Diverse Books.